Advertisement
Well that doesn't look very CLEAVER! Bizarre knife massages are going down a treat with hardcore spa-goers. The cutting edge craze sees customers 'relaxing' as sharpened cleavers are pressed in rhythmic motions all over their body and face – with nothing but a thin piece of material between them and the blade.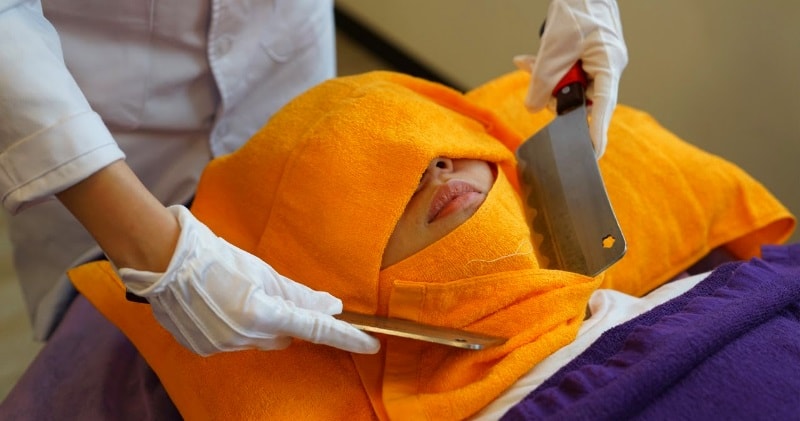 image/text credit: Caters Clips
Unbelievably, Hsiao Mei Fang, the owner of Ancient Art Of Knife Therapy Education Centre, in Taipei, Taiwan, has been performing the strange procedure for more than 13 years. She said: "The treatment is originally from China and is 2500 years old. But here we have created an original and new knife therapy.
"Everything has a Yin and a Yang, so instead of using one knife we use two – this represents the Yin and Yang. The idea is not to draw blood, but to use the heavy blade to reach deeper into muscles than fingers can go, which lets the metal remove negative energy from the body.
Advertisement
But believe it or not, many have undergone the therapy and felt a certain ease after doing so. It is said to relieve the body of harmful toxins and help increase blood flow.But even if it is relatively safe, it is clearly designed for the brave.