Advertisement
Visitors at the Rotterdam Zoo in the Netherlands were shocked to see an antelope attack a giraffe, causing minor injuries. The animals have reportedly been living in the same enclosure for years and officials aren't sure what caused the aggressive behavior.This was the brutal moment an antelope launched a surprise attack on a giraffe in front of tourists at Rotterdam Zoo.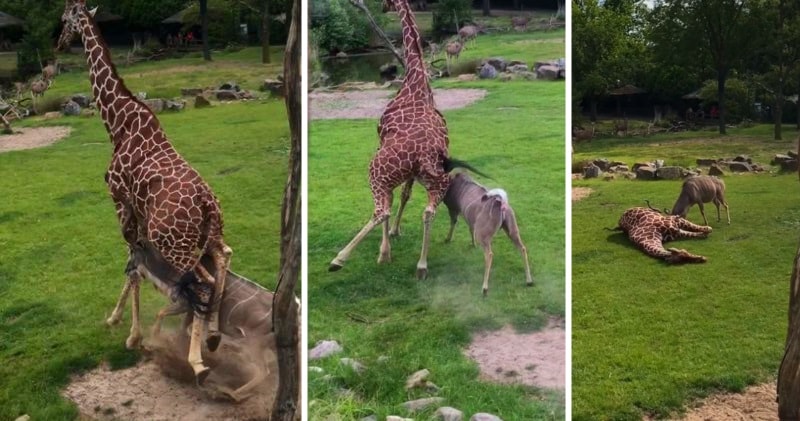 image credit: Storyful
The creature smashes its horns into the giraffe and chases the lanky animal around the pen as day-trippers watch on.After a moment, the poor giraffe manages to get to its feet. With the kudu still bucking at him, the giraffe attempts to make its escape, but the kudu is still underneath him.
The terrified giraffe is then smashed into rocks and chased all the way back to its group.The fired-up antelope is a Kudu species normally found in southern and eastern Africa.It is possible the animal displayed an unusual act of aggression as a result of its captivity. This is not a new concept.
Advertisement
Zoo animals have had their behavior and well-being affected, including aggression, due to their living conditions.Following a violent encounter with an angry species of antelope, Banio the giraffe is recovering and "doing well," according to handlers at the Rotterdam Zoo.