Advertisement
This post is meant for educational purposes only
A sassier twist on the classic derringer, the Mama Bear by Bond Arms, is a California approved pistol with attitude. This pink mistress won me over with her sexy style and simple nature.
Scroll down for the video …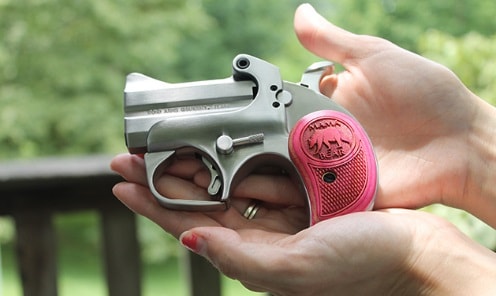 For one thing, ammunition to gun type will end up being a problem for anyone not versed in ammo types; but there's always an answer to every problem, and Bond Arms has introduced theirs.
Bond Arms Mama Bear Review
This is the 'Mama Bear' Derringer .358/.38 special, a gun with a modular barrel system capable of coming in 25 different calibers other than the one specified. It's small and comfortable, perfect for a conceal carry or home protection for anyone. Plus, with the different barrels you can collect them all and not worry about a thing when dead people start trying to eat you.