Advertisement
A daring dad-of-two has revealed the astounding moment he flew over a RAF Hercules Bomber aircraft 'like Superman' – whilst hang-gliding at 3,500 feet in the air.Steve Wood, 44, was floating over Sutton Meadows in Cambridgeshire when he noticed the impressive military aircraft in the distance.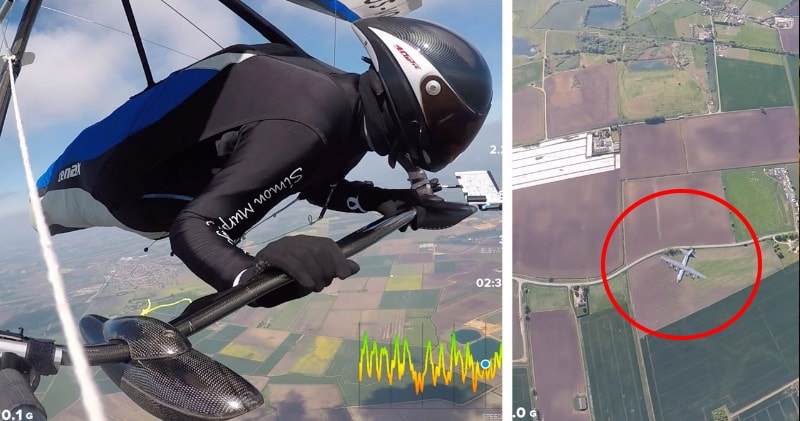 image/text credit:  Caters Clips
After deciding to see how close he could get to it, before Steve knew it he was flying directly above the giant bomber with its 150-foot wingspan.Steve, from Hertfordshire, said: "I could see the bomber from a good couple of miles away. "I just thought I'd see how close I could get to the plane but I actually ended up closer than I thought I would.
I couldn't believe I flew over the top of it, it was impressive – though I was still safely 1,000 feet above it."To get near to a plane like a Bomber while in the air is very rare. It's a huge plane, a giant and very imposing in the air – it makes you feel tiny in comparison."Hang gliding honestly feels the closest you can get to dreams of flying.
Advertisement
"My wings are lighter than my whole body, so I genuinely feel like Superman while I'm up there, especially when I managed to fly over a plane like that."It's not something you ever expect to experience. I felt as free as a bird."I do often spot other aircrafts when I'm out flying but I can often never get that close."