Advertisement
A big burly bear riding on motorbike sidecar can happen only in two instances – either the circus near you or you're high AF! An driver in a Russian city pulled out his cellphone to take video of a bizarre sight: a massive brown bear riding in a motorcycle sidecar.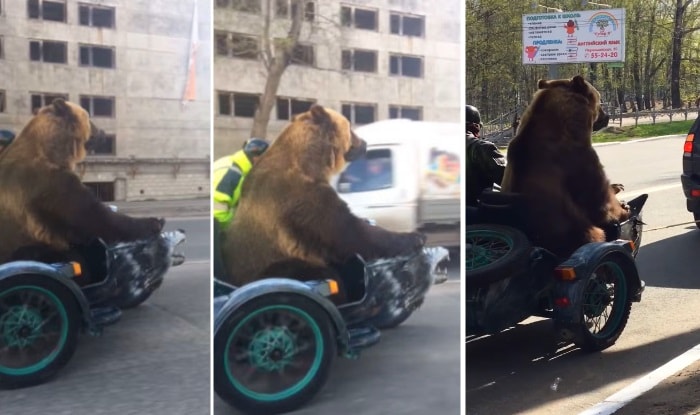 image: ViralHog / bnkomiVIDEO
Nicholas Pasynkov said he was driving Saturday in Syktyvkar when he spotted the large bruin calmly riding in a motorcycle sidecar that had been designed to resemble the face of a wolf.Pasynkov, who pulled out his cellphone and filmed a short video, said it was an unusual sight on the streets of his town.
Though it was later found out the animal to be a trained one from a nearby circus but that did not kill the curiosity of the surprised man was driving when he came across the unusual sight.
Advertisement
A grizzly brown bear is calmly sitting in the sidecar of a motorbike as two people rode the bike. Not an everyday sight to witness, Nicholas quickly captured the odd moment on a camera and posted it on the social media.
The bear did not seem out of place as he enjoyed the wind flow on his face. For the fellow drivers and pedestrians who caught the weird sight were definitely astonished.