Advertisement
At the Tennoji Zoo in Osaka, Japan, hippo hygiene is important. Thanks to training and consistent routines, hippopotamus Tetsuo understands how to get his teeth brushed and get a quick physical check-up from the careful zookeeper, a hippo tooth brushing professional. Watch and brush along./thekidshouldseethis.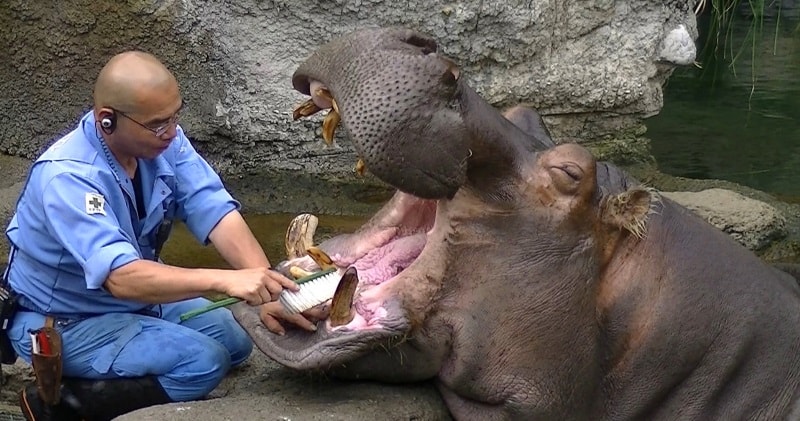 image credit: XMANTENX
In nature, cleaning symbiosis helps a hippo's 40 chompers stay relatively well-cared for thanks to the feeding habits of fish and birds. A hippo's self-sharpening teeth are used for both chewing and combat, and are quite unique./newscientist
The visible canines grow throughout the hippo's life, some reaching 50 centimetres in length. As the teeth don't yellow over time, such hippo ivory is popular with poachers, and used to be made into dentures – most famously for US president George Washington.
Advertisement
These ferocious fangs are used for fighting and for shearing off plants close to the ground. Hippo back teeth are often not seen, but these unsung heroes munch up the 40 kilograms or so of grass the animals can consume every night.Hippopotamuses usually let eager fish and birds clean their teeth for them, but this one doesn't seem to be complaining about the human touch.