Advertisement
The Ford GT is coming home to Forza HQ! Turn 10's studio manager Alan Hartman is purchasing a brand new 2017 Ford GT and we're bringing Forza fans along for the journey. In this video, join Alan and Forza vehicle art director Gabe Garcia as they take you on an insider's journey through the production facility where the brand new Ford GT is being built.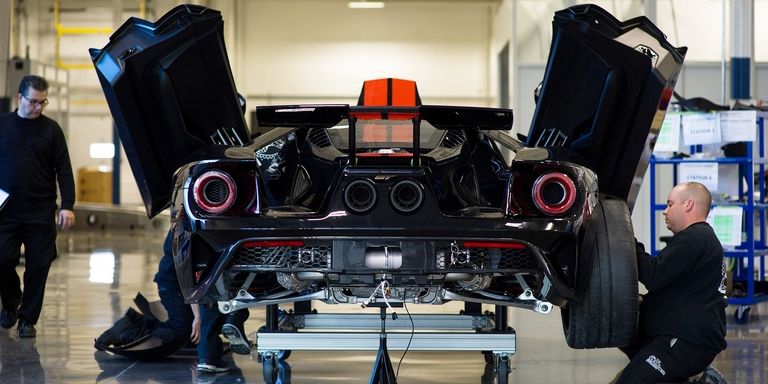 image/text credit: Turn10Studios
Take a tour through the Multimatic Ford GT production facility, learn about the extreme attention to detail that goes into every Ford GT model, and get a sneak peek at Alan's choice for the Turn 10 Ford GT, to be delivered later this year!
Like, for example, that it takes nine days to complete a GT from start to finish, from the 5,000 constituent parts that are shipped to the factory, and typically, a single car rolls off the line every day (5 cars/work week X 50 work weeks/year = 250 cars per year).
Advertisement
The final trial for each completed car is a "monsoon test," wherein 6,000 gallons of water are sprayed at the newly-assembled Ford GT while a factory worker in the cockpit watches closely for any sign of leakage.It's crazy stuff, and an ironically painstaking, slow process for the company that introduced rapid assembly-line manufacturing to the automotive world.