Advertisement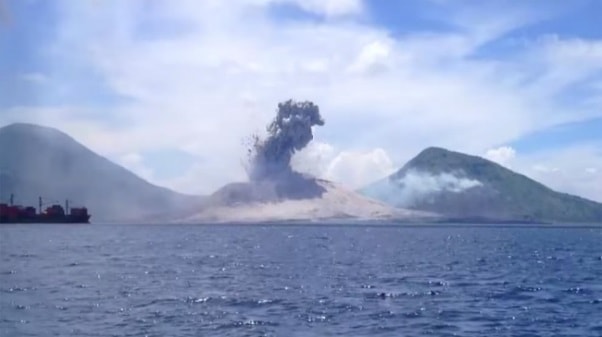 There's are legendary tales about the 1883 Krakatoa volcanic eruption, the deadliest and most destructive volcanic event in history. The stories suggest that the sound made was so loud it ruptured the eardrums of people more than 60km away, travelled the world four times, and was heard some 5000km in the distance.
The blast wave from the explosion of Mount Tavurvur, a volcano in Papua New Guinea, suggests that this incredible story is, without a doubt, real.
Listen to this destructive boom, and watch the shockwave travel. It even causes clouds to form.
All that said, there is a chance the sound isn't just the eruption, but also a sonic boom.
So how far away was the volcano? The eruption itself starts at around the 13-second mark, and we hear the boom at about the 25-second mark.
If we calculate how far sound travels in 12.5 seconds – with sound travelling at 340 metres per second – we can say 12.5s*340m/s equals 4250 metres. Or around 2.64 miles.
The reactions from the people on the boat sum it up nicely: "Holy smokin' toledos!"
Indeed!
via techly