This 16-cylinder stirling engine is a fully-functioning model capable of speeds of almost 2,000 rpm.This 16 cylinder Stirling engine is a heat engine in the Stirling engine.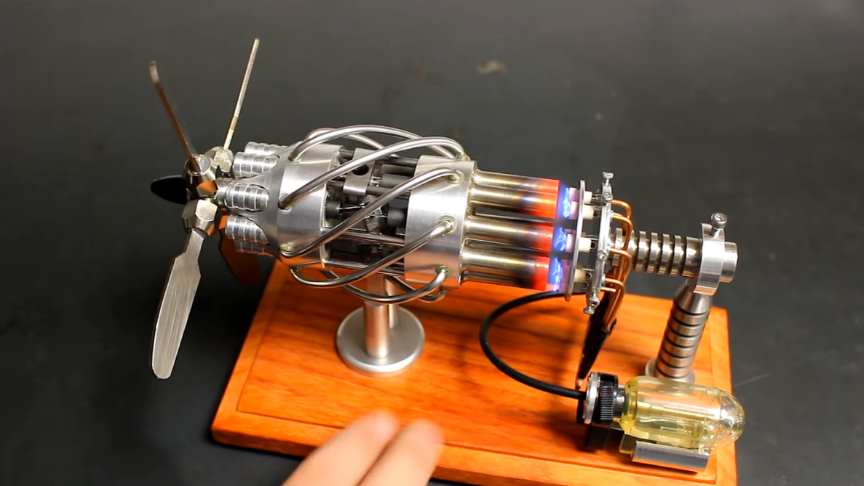 source/image: JohnnyQ90
By circulating compression and expansion of air or other gases, the Stirling engine model is working fluid operates at different temperature levels, converting the thermal energy into mechanical work.
The engine is like a steam engine. The heat of all the engines flows in and out through the engine wall. The 16-cylinder Stirling engine you see here is a little more complex than most, it has 8 heat cylinders at the rear with 8 cooling cylinders at the front – these have additional cooling provided by the propeller.
Advertisement
You can see the regenerator tubes in the center, these are the curved metal tubes that connect the bases of the hot cylinders to the bases of the cool cylinders, transferring hot air in one direction, then cool air back again.A Stirling engine is a heat engine that is operated by a cyclic compression and expansion of air or other gas (the working fluid) at different temperatures, such that there is a net conversion of heat energy to mechanical work.
Description:
Name: 16 Cylinder Stirling Engine Model
Material: Stainless Steel + Solid Wood
Sizes:21.5 x 10 x 16.5 cm / 8.46 x 3.9 x 6.49 inch
Model:16 Cylinder(8 heating tube+8 cooling tube)