This New Imperial is one of four known surviving motorcycles and was featured in "British Classics" magazine (6/2013 edition). It´s equipped with a complete acetylene lighting, hand operated horn, Brown & Barlow caburetor and a 3 speed gearbox. It runs well and smooth.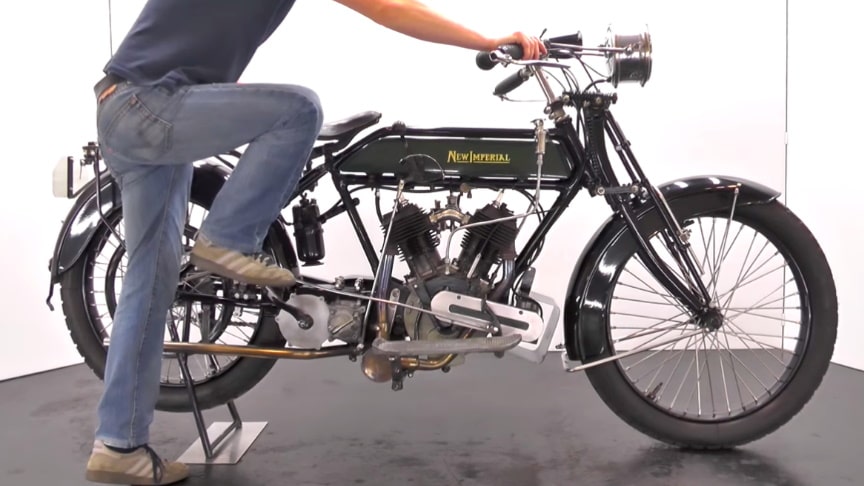 image: classic-motorcycle.com
The Birmingham bicycle factory produced its first motorcycle in 1901, a front wheel drive contraption with the engine mounted on the handlebars and a belt drive to the front wheel. It was not well received and the firm reverted to bicycles for the remainder of the century's first decade.
By 1912 they were back, this time with three motorcycles on offer, and two years later they released their landmark model, the 300cc Light Tourist. It was a resounding success.On the 6th October 1939 a new owner purchased the company and changed the name to Clifford Aero & Auto Ltd.
Advertisement
This company built components for Lancaster and Spitfire aircraft, and it would not have amused the Germans to learn that the two men most closely associated with the company at that time, Jack Sangster and Solomon Joseph, were Jewish. New Imperial of Birmingam used Precision and JAP engines of 250 to 1000cc until 1925 when they introduced their own powerplants of 146cc to 498cc.
Some Specifications:
Capacity: 964cc – JAP
Engine type: 4-stroke / sv
Cylinders: 2
Power: 20hp
Bore/stroke: 85x85mm