Zündapp (a.k.a. Zuendapp) was a major German motorcycle manufacturer founded in 1917 in Nürnberg by Fritz Neumeyer, together with the Friedrich Krupp AG and the machine tool manufacturer Thiel under the name "Zünder- und Apparatebau G.m.b.H." as a producer of detonators (Zünder- und Apparatebau is German for Igniter and Apparatus).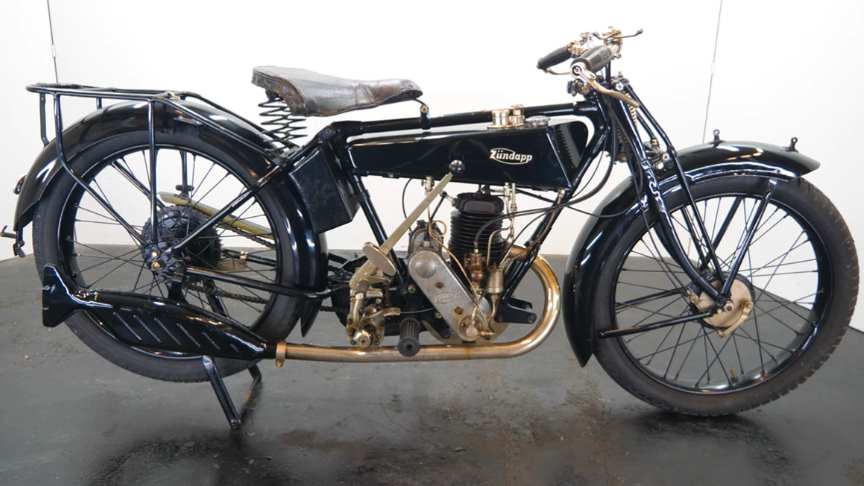 source/image: classic-motorcycle.com
In 1919, as the demand for weapons parts declined after World War I, Neumeyer became the sole proprietor of the company, and two years later he diversified into the construction of motorcycles. The first Zündapp motorcycle was the model Z22 in 1921. This was the ""Motorrad für Jedermann" – ("motorcycle for everyone"), a simple, reliable design that was produced in large series.classic-motorcycle.com
In 1925 the first EM249 left the Zündapp works. The EM249 was apparently based on the British Levis which Neumeyer had seen at the London motor show of 1920. In 1927 Zündapp had only one model in the sales catalogue… the EM249. In 1928 only for one year the EM300 are new in the catalogue.
Advertisement
The EM300 had all the same parts as the EM249 but with increased displacement with bore 68mm and stroke 82.50mm.This Zündapp has been restored a couple of years ago and has an AMAC carburetor and a Noris magento. It's a good runner./via/read more: classic-motorcycle.com
Year: 1927
Displacement: 249 cc
Cylinder: 1
Engine type: 2-stroke
Bore / Stroke: 62 x 82.5 mm
Power: 4.5hp @ 3100 rpm
Weight: 85 kg
Top Speed: 80 km/h