The Square Four is a motorcycle produced by Ariel between 1931 and 1959, designed by Edward Turner, who devised the Square Four engine in 1928. At this time he was looking for work, showing drawings of his engine design to motorcycle manufacturers.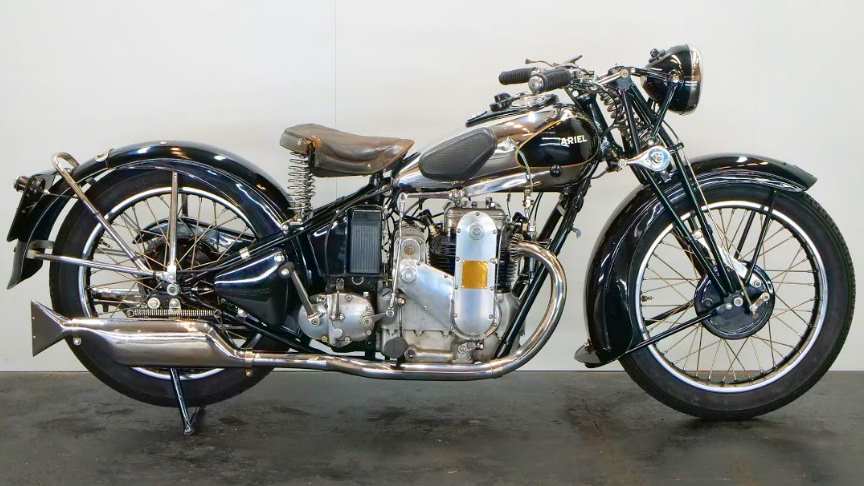 source: wikipedia/image: classic-motorcycle.com
The early engine with "two transverse crankshafts"  was essentially a pair of 'across frame' OHC parallel twins joined by their geared central flywheels, with a four-cylinder block (or Monobloc) and single head.
This bike has been restored years ago to high standard. The motorcycle was only driven 200 km after the restoration. It runs powerful and smooth.
Advertisement
The idea for the engine was rejected by BSA, but adopted by Ariel. Thus it became the Ariel Square Four.The first Ariel Square Four 4F was shown at the Olympia Motorcycle Show in 1930,in chain driven overhead-camshaft 500 cc form. In 1932, the cylinder bores were enlarged by 5 mm to give a capacity of 601 cc.
Manufacturer: Ariel
Model: Square Four 4F
Year: 1932
Displacement: 601 cc
Cylinder: 4
Engine type: 4-stroke / ohc
Bore / Stroke: 56 x 61 mm
Power: 24hp @ 6.000 rpm
Compression Ratio: 1 : 6.9
Weight: 168 kg
Top Speed: 120 km/h
Production years: 1932 – 1936
Units: 2.674