The Reliant Regal came to market in the early 50s, but by 1969 when this particular car was sold, they'd really worked to move things forward and this was known on paper as the MK7 – but most just refer to it as the Regal. This particular car started life as a 3/30 – the 3/30 model is named as such because the 3 represents the 3 wheels and the 30 represents the 30bhp available to the discerning Regal driver. Although the brochure does only promise 29bhp – but we'll overlook that.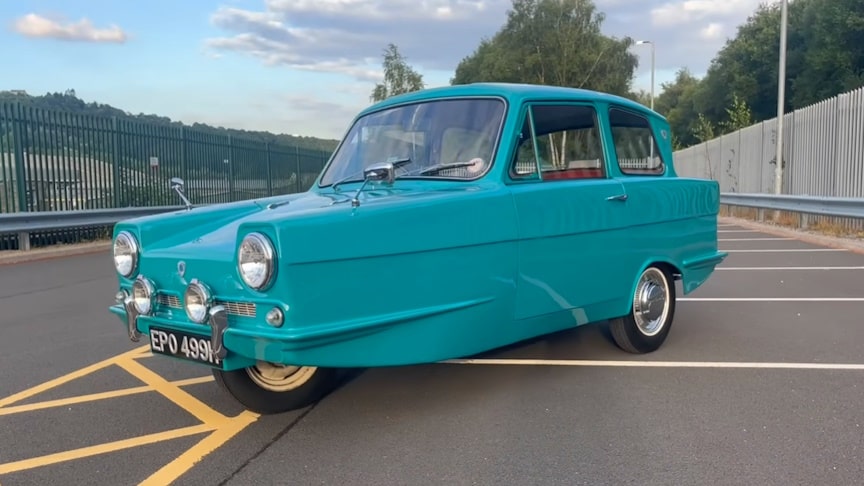 source.image: idriveaclassic
Engine wise, you got the 700cc four cylinder high efficiency overhead value, water cooled engine. I mention the engine being aluminium later on, but to clarify, the car was fitted with a die cast alunimum head and a die cast aluminium block with removable wet liners – which as a huge selling point. The transmission was 4 forward speeds and reverse, with synchro on top, second and third. Brakes are hydraulically operated internal expanding to all wheels and the steering is Burman Douglas type.
Whilst we talk about wheels, let's talk turning circle too – it's 24ft or just over 7.3 metres for those who don't think in feet and inches like me! For my lovely viewers overseas who have never seen one of these before, to give you some perspective on size, they're 135 inches/3.43 metres long and 58.5 inches/1.48 metres.
Advertisement
Metallic paint finish in three glamour tones, although this one has been repainted to match a B&Q shade chart; which I love. Carpet covered heelboards, carpeted footwell surrounds, interior paintwork matched to exterior, for reference, this basically meant internal bits were painted in the grey primer colour which sat under the paint. Luxury interior trim fittings, ammeter in chrome bezel, chrome plated boot hinges and an oil pressure gauge; once again sitting in the chrome bezel.via/read more: idriveaclassic