Check out this 1971 Chevrolet Camaro I found at the 2019 SEMA Show…"Infrared"…If You follow the channel You know I am a BIG fan of the 2nd generation Chevrolet Camaro and this one is done to a very high level.It has a ton of custom touches…But it didn't lose any of the old school cool of a 1971 Chevrolet Camaro.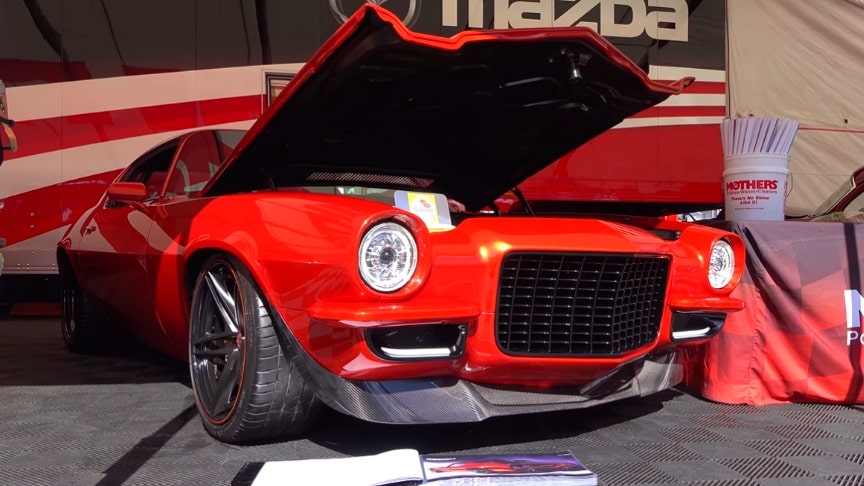 source/image: ScottieDTV
Covered in a shade of orange that isn't what you think of when someone says "orange" but a much cooler version and it was working overtime in the Las Vegas sun with the pearl in it giving it some gorgeous highlights.Just a awesome color…Wheels are always a personal choice but I dig the ones that this 1971 Chevrolet Camaro from the 2019 SEMA Show wears.Stance is king and this 71 Camaro has a killer stance.
The interior in this 2nd gen Camaro is all custom and a very modern version of what you would have got from Chevrolet back in 1971…Under the hood has all been cleaned up and a LSX 454 putting out around 625 HP looks as if it will get the job done.
Advertisement
The suspension on this 1971 Chevrolet Camaro from the 2019 SEMA Show has all been upgraded and is finished to a very high level. I may be a little bias since I am such a fan of this generation Chevrolet Camaro but I am sure You will agree.