In this video from The SEMA Show 2022 held in Las Vegas NV, I have the 1972 K5 Chevrolet Blazer "MaePearl".This 72 K5 Blazer looks nothing like when it rolled out of the factory..First thing is that from what I can tell it's a Roadster.The top of the windshield is exposed so I don't think that it has any roof at all.And that's just the beginning of the custom work done to this 1972 Chevrolet K5 Blazer from The SEMA Show 2022.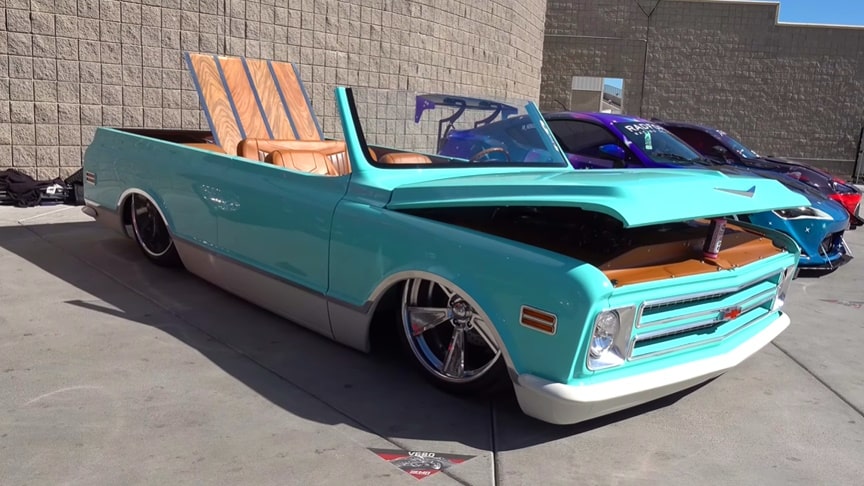 source/image: ScottieDTV
It's covered in a pastel green color with white rockers and bumpers that it wears well. The custom leather interior is covered in a brown leather that works well with the body colors.and when I say custom..Like the rest of this build.Nothing like what came from the factory back in 72. Wheels are a personal choice and no one set will please everyone.
The ones they chose to run on this 1972 Chevy Blazer from The SEMA Show work well with the rest of the build in my opinion. This 72 K5 lays on the ground so I couldn't see the underside, but some of the rear end was exposed through the interior floor and that was finished to a very high level and very cool.
Advertisement
Not sure what powers it, but from what I could see.It is cleanly installed with some very nice color matched to the interior panel work.I'm a BIG fan of these Chevrolet Blazer Roasters and I would drive this one everyday if I could.A very cool 1972 Chevrolet Blazer K5 Roadster "MaePearl" from The SEMA Show 2022.