In this video from the ScottieDTV You Can't Cancel Cool Road Tour 2020 I end up in Oneida Tn checking out this 1973 International 1210 Camper Special Custom Pickup.This one starts a couple of weeks before while cruising the strip at the 2020 Pigeon Forge Rod Run where I first spotted this custom 1973 International Pickup.One lap around the hood was open and the owner was there. He turned out to be a great Guy ,we exchanged information and setup this shoot.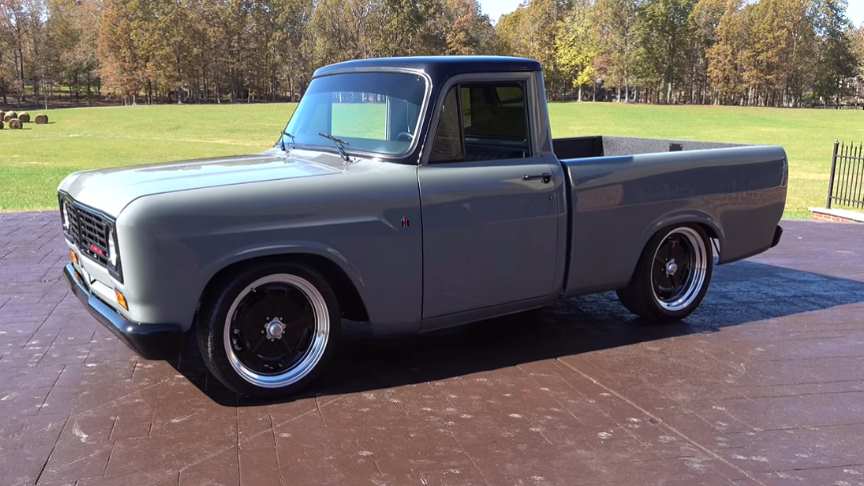 source/image(PrtSc): ScottieDTV
That's old school ScottieDTV right there..lol..But what a cool build..You never see anyone do a International?..This one started life as a long bed 1210 Camper Special.It's a short bed now.Covered in grey with black paint it wears well and not only did they make it a short bed.There are also several other body modifications made to it.
You have to know what one looked like stock because you can't tell anything has been done to this one.This short bed 1973 International 1210 Camper Special looks like this is how it came from the factory in 1973.The interior is all custom and very fitting for the build..Nothing over the top.Custom.But like it could have come that way.
Advertisement
Under the hood 6.0 LS and a very clean install…Wheels and tires are a personal choice and no one set will please everyone.I'm good with the ones they chose to run on this 73 International Pickup…It's always cool to see someone do something that doesn't get done very often and when they nail it.All the better.This custom 1973 International 1210 Camper Special is nailed IMHO.Very cool for sure.I'm sure You will dig it.