In the mid-1960s, as the Japanese were beginning to get a toehold in the U.S. market, Kawasaki decided to build a large displacement bike to impress the Americans. They began with their 650cc W1 model with looked for the entire world like a BSA A11 upright twin. That didn't impress, so Kawasaki decided to create a no-compromises stoplight racer that would be unbeatable. Their first try at this formula was the 1969 H1 Mach III.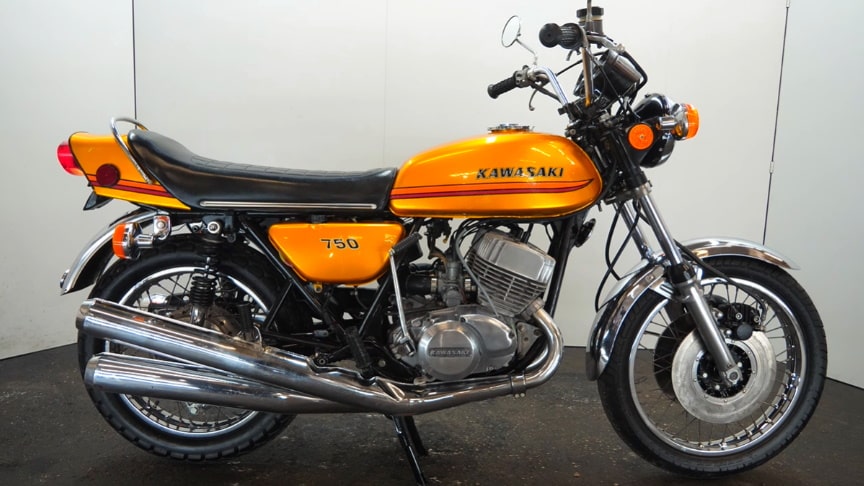 source/image(PrtSc): classic-motorcycle.com
It was an under-181kg , 60hp, two-stroke, 500cc three cylinder model that achieved its intended purpose, but not without some serious baggage. Gas mileage was horrible. Under acceleration, the H1 trailed a plume of oil smoke that made one think of mosquito abatement; the brakes could hardly handle the speed and handling made some think the bike had a hinge in the frame. As these smoking devils left everything else in their wake, Kawasaki was thinking of the next step.
It arrived in 1971, in the form of the 750cc H2. Kawasaki made sure that the American press got the message with a U.S. launch on the Queen Mary, and then anchored in Long Beach harbor. Long-time freeloading journalists still remember it fondly. Not only was the H2 more anti-social than its smaller brethren when it came to noise, pollution and a Friend of OPEC award, but it added another 14 horsepower to the equation. Nicknames like 'The Widowmaker', were employed and phrases like, 'Zero to death in three seconds', were coined.
Advertisement
The bike's ability to run the quarter mile in the low 12-second range made wheelie a household word and kept Kawasaki at the top of the straight line, street racer heap until they introduced their original Z-1. The 750 model range has been produced in four series, the H2, H2A, H2B und die H2C. The first series H2 had 74hp on the rear wheel and were offered for 5.400DM. The engine of the further series H2A, H2B and H2C produced 71hp.This unique 3-cylinder two stroke bike from the 1970s runs fine and has much of power.via/read more: classic-motorcycle.com