The walk through of the fully rebuild by Cubsmodshop 1986 4×4 Toyota Sunrader with a 3.4 V6 motor. Plus much more make this rig one of a kind!!!Compact and easy to park. The front cab is open to the back living quarters. Two bucket seats with seatbelts only. This could be one of the reliable RV's were is able to through all terrain.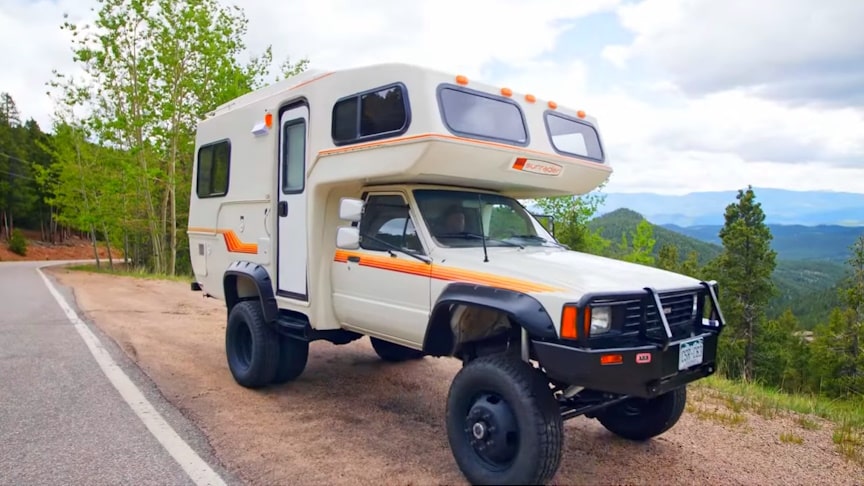 source.image: Jacob Carey
The kitchen is fully functional and can run off-grid with proper charge and propane or plug into available 120 outlet. There is no toilet or shower. The bathroom was converted to a closet for provided misc gear, beach chairs, umbrella etc. All kitchen needs, bedding and whatever else you may have overlooked packing are supplied. Watch the video from Jacob Carey where he takes a full tour of this rare 1986 4×4 Toyota Sunrader rebuild.
This is a complete, frame off restoration/conversion. The cab was removed, sanded, primed, and painted. The interior was completely renovated with the inclusion of modern, high efficiency appliances and LED fixtures, natural finish maple and pine wood cabinets, extra insulation over and above what came from the factory.
Advertisement
The Sunrader also has new full exhaust with pyrometer, aftermarket boost guage, new clutch, new bushings, new shocks, new tires/wheels, winch bumper, welded grill guard, power steering, AC, adjustable air bags, new brakes, new electric cooling fan, and a multitude of other new parts.