In this video from the National Corvette Museum I check out the 1989 Chevrolet Corvette ZR-12. That's right.It's not a misprint…Chevrolet made a Corvette ZR-12 to compete with newly announced Dodge Viper V10.The story goes that after Dodge had announced the Dodge Viper would have a V-10 Engine.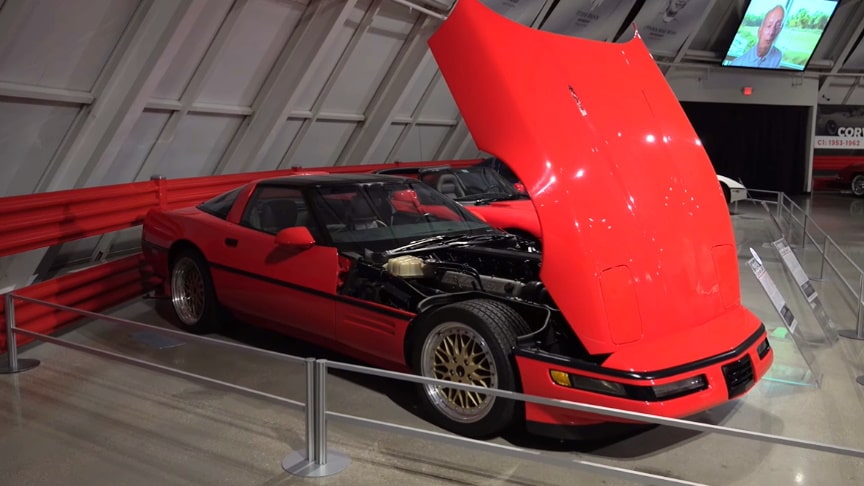 source/image(PrtSc): ScottieDTV
Chevrolet hurried back home and cut a early production Chevrolet Corvette ZR-1 in hafe and had a V-12 built to be installed.The had to add eight inches to the length of the stock 1989 Chevrolet Corvette ZR 1 to make room for the 4 extra cylinders..When You visit the National Corvette Museum you expect you will see every generation of Corvette ever made.
And You will.What will really surprise you is that there is a lot that went on throughout history you had no idea about.The 1989 Chevrolet Corvette ZR12 never made it to production..The Dodge Viper did and had the World's attention for several years.
Advertisement
A cool car for sure. Chevrolet fans can only dream of what if Chevrolet would have went forward with their bigger Brother to the Dodge Viper V10.The Chevrolet Corvette ZR-12..I really enjoyed my visit to the National Corvette Museum in Bowling Green Ky.Even if your not a Big fan of the Chevrolet Corvette..The automotive history is still very cool to see./ScottieDTV