The Ferrari Mondial (Type F108) is a mid-engined, V8, grand tourer manufactured and marketed by Ferrari between 1980 and 1993 – with styling by Pininfarina and bodywork by Carrozzeria Scaglietti.Offered as either a 2+2 coupé or cabriolet, the Mondial has the slightly higher roofline, greater dimensions and increased weight to accommodate occasional rear seating for children or small adults.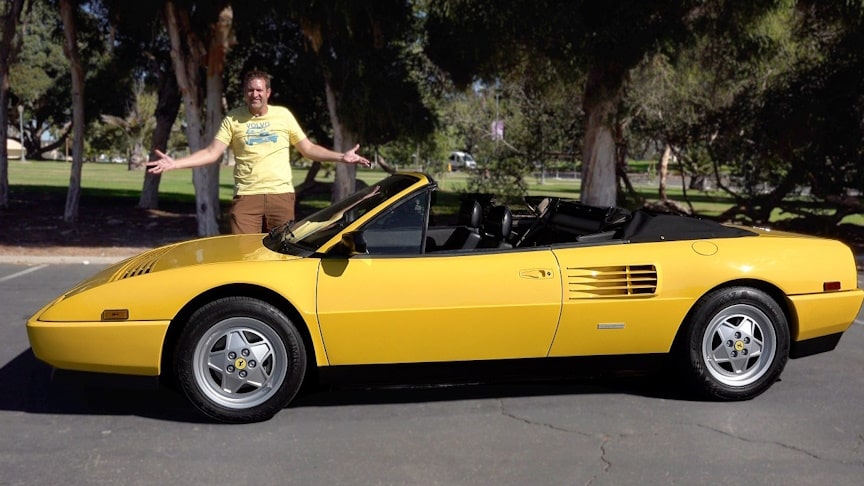 source.image: Doug DeMuro
Pininfarina's bodywork was manufactured by coachbuilder Carrozzeria Scaglietti. Its used outer body panels fitted to a separate space-frame chassis of tubular box or oval-shaped steel sections.
While most body panels are steel, the front lid and rear engine cover of the Mondial 8 and QV models are aluminium.Full-width aluminium louvre panels across the front lid and engine cover provide airflow through the front-mounted radiators and engine bay.
Advertisement
All Mondials are fitted with a V8 engine deriving from Ferrari's original 2.9 L (180 cu in) V8 powerplant released in the 1974 Ferrari (Dino) 308 GT4.Engine displacement started at 2.9 L (180 cu in) for the Mondial 8 and QV models, increasing to 3.2 L (200 cu in) for the Mondial 3.2, and culminating in 3.4 L (210 cu in) for the Mondial t model. The orientation of the 3.4 V8 engine block is unique in Mondial t models. Mirroring the two-seater Ferrari V8 vehicles, all 3.0 and 3.2 L engines sit across the car with their crankshaft and cylinder planes transverse to the main vehicle axis.