The 2020 McLaren GT is the luxury McLaren. Today I'm reviewing the McLaren GT to see how luxurious it is, and I'm going to take you on a tour of the 2020 McLaren GT to show you all around the new luxury McLaren. Then I'm going to drive the new McLaren GT and give it a DougScore.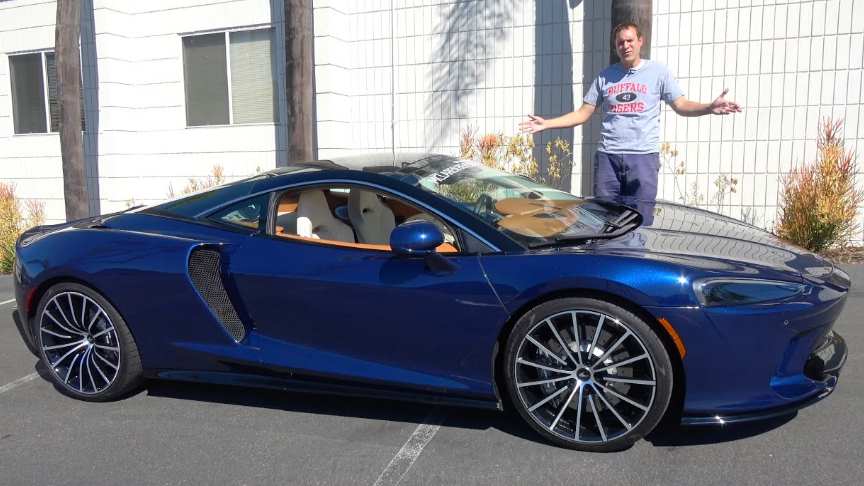 source/image(PrtSc): Doug DeMuro
The GT was first announced at the 2019 Geneva Motor Show, but full details of the car were not released until May 15th of the same year.The GT features a new variation of the 3,994 cc 4.0 L; 243.7 cu in twin-turbocharged M840T V8 engine found in the 720S.
Having a new dedicated codename of M840TE, the new engine has smaller turbochargers that deliver lower peak performance than its Super Series variant but greater low RPM-performance and responsiveness. The GT has a rated power output of 620 PS 456 kW; 612 hp at 7,000 rpm, and the maximum torque is 465 lb⋅ft (630 N⋅m) at 5,500 rpm.
Advertisement
The suspension system in the GT is also derived from the system in the 720S. The car utilises double wishbones at the front and rear axles, and a modified version of the ProActive Chassis Control II active damping system called Proactive Damping Control.The company claims that the GT has a top speed of 326.7 km/h (203 mph), it can accelerate from 0–97 km/h (0–60 mph) in 3.1 seconds, and 0–200 km/h (0–124 mph) in 9 seconds./wikiepdia