The 2022 Audi Q4 E-Tron is Audi's new electric SUV, and today I'm reviewing it. I'll show you all the quirks and features of the Q4 E-Tron, and I'll also show you all the features of the Q4 E-Tron. I'm also going to drive the new 2022 Audi Q4 E-Tron and show you what it's like behind the wheel.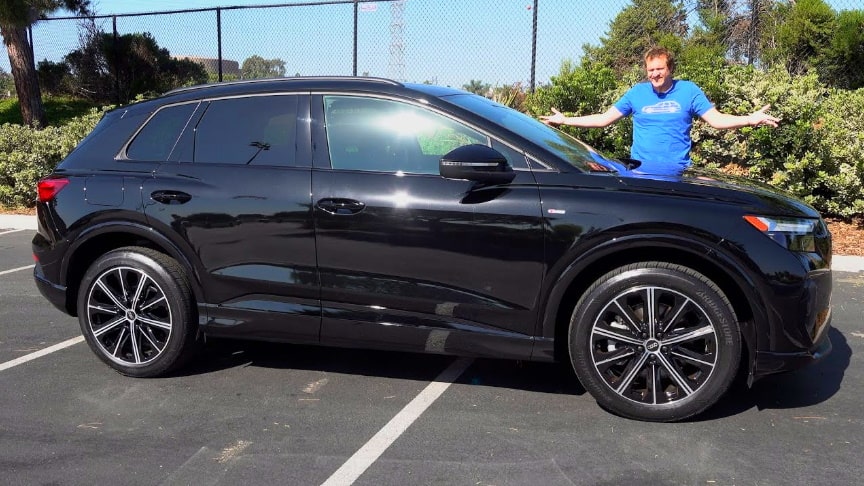 source/image(PrtSc): Doug DeMuro
The interior is a technological showcase for Audi's latest and greatest gadgets.The Q4 e-tron will have the latest version of Audi's MMI system. A 10.3-inch digital gauge display is standard, and a large 10.1-inch infotainment touchscreen angled toward the driver for easier access to its various features.
Powertrain:Rear wheel drive (RWD) models make use of a water-cooled brushless permanently excited synchronous motor positioned along the rear axle, producing up to 150 kW (201 hp) of power and 310 N⋅m (230 lb⋅ft) of torque and rotates at a speed of up to 16,000 rpm. The motor is coupled to a 1-speed transmission with a fixed gear ratio of 13:1 and typically operates with "substantially greater than 90 percent" efficiency.
Advertisement
The motor, transmission, and power electronics (DC/AC converter) together form a compact drive unit that weighs around 90 kg (200 lb).The battery consists of a liquid-cooled Lithium-Ion battery pack which houses either 10 or 12 modules containing the individual battery cells in an aluminium casing.