The all-new Fleetwood Frontier combines the horse powered heft, smooth handling, and reliable safety features you want with the comforts of home you need— reliable full-size appliances, cozy gathering spaces, and better technology packages to keep the kids entertained.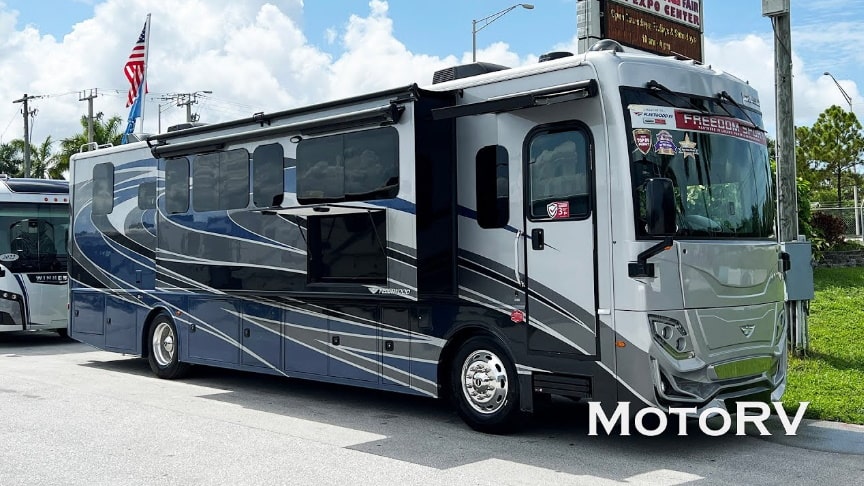 Durable framework, horsepower heft and smooth handling combined with elevated interior decor and premium amenities makes every road trip feel like the best road trip ever.Make miles of new memories in the 2022 Fleetwood Frontier!What makes the Fleetwood Frontier so great?Take on the road with a Cummins®, 6.7L, 340HP Engine feat. 700 lb/ft torque.A 100-gallon fuel tank that lets you stop less and drive more.
The DriveTech / Optiview™ display and control system makes for a safer driving experience.Extra exterior storage so you can bring all your toys.A legless electric patio awning w/ LED lighting and motion sensor to retract.
Advertisement
All the full-size appliances you need to keep your family clean and fed.(Almost) endless hot water courtesy of an Aqua-hot® 250D compact heating unit.A spacious bed, fireplace, and fiberglass shower that make your RV feel like a fancy hotelOptional add-ons like a KING universal satellite system, Hide-A-Loft Electric Drop Down Bed with TV, full bay 90" slide-out tray, and connectivity packages.