The new Porsche 911 GT3 RS makes no secret of its intentions: it is uncompromisingly designed for maximum performance.The look of the new 911 GT3 RS is characterized by a large number of functional aerodynamic elements. The new GT3 RS is finished in white paint and has its wheels, side mirrors, and a few other exterior elements painted in Python Green.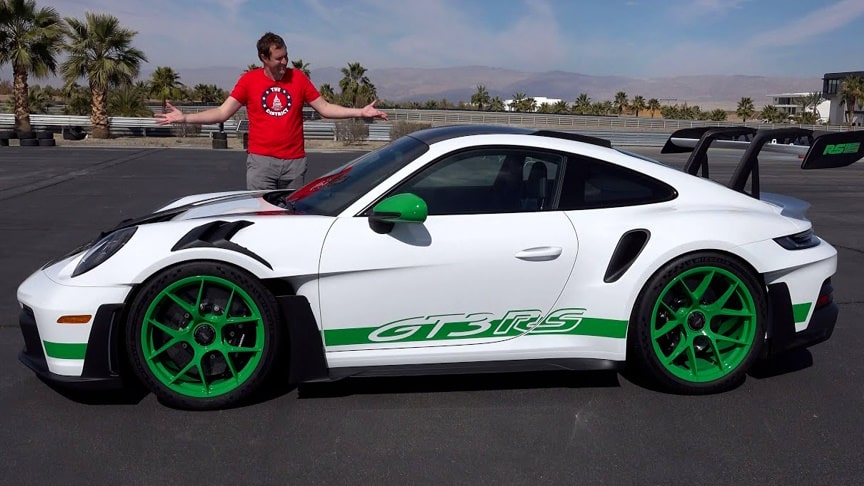 source/image: Doug DeMuro
Powering the special Porsche is the automaker's naturally aspirated 4.0-litre flat-six engine that produces 518 bhp and 343 pound-feet of torque. The car can reach 100 kilometres per hour in just 3.2 seconds, reaching a top speed of 184 mph.
The Porsche weighs only 1,525 kg empty. This figure is achieved thanks to the extensive use of carbon fiber reinforced plastic found in particular in the doors, the front fenders, the roof and the bonnet.
Advertisement
The single-throttle intake system and the solid cam followers, which have also been optimised, are derived from motorsport. The seven-speed Porsche dual-clutch transmission (PDK) has a shorter overall gear ratio than the 911 GT3. Porsche Design has launched the new chronograph 911 GT3 RS, inspired by the mindset of successful racing drivers. It is reserved for the buyers of the new Porsche 911 GT3 RS.