The new Roller Team Livingstone 2 Sport is built on the latest Fiat 8 chassis, which means, among other things, a new improved and powerful Euro 6 engine with Adblue, a new dashboard/driving environment, a new steering wheel with cruise control, multifunction, digital speedometer, electronic servo and several new smart improvements in the driving environment.In the driver's environment you will find, among other things, a new Fiat dashboard with everything it entails, air conditioning, airbags on both sides, cruise control, on-board computer and a vigorous 2.2L Turbodiesel engine of 140hp makes the motorhome ready for travel.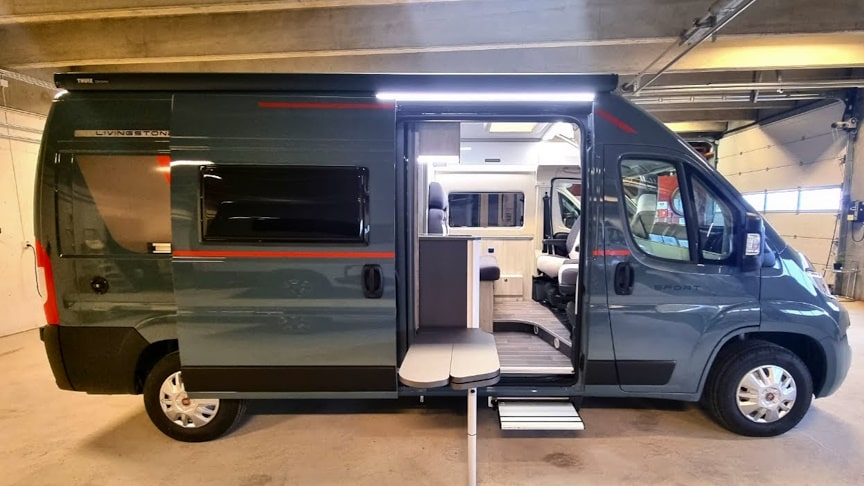 source.image: Bobilagenten AS
On the outside, you have a gorgeous colour, awning, mosquito door, electric step and double doors with windows. Reversing camera that is placed high gives you a good overview when it is necessary to reverse. There are rails for outdoor tables so that you eliminate the problem of bringing your own coffee table. A mosquito door is also nice to have if you are going to camp where mosquitoes thrive.
The car has a solar cell, which makes it suitable also for those of you who like free camping! Here you don't have to think about anything, as long as you have daylight, the battery is charged automatically.The motorhome has a great interior with smart solutions. LED lighting around the car. Reversible chairs with armrests form a pleasant seating area, and a smart table.
Advertisement
This table can be folded together with a movement of the hand so that you get a smaller coffee table, and can also be expanded for an even larger table surface when you need it. In the kitchen, there are many smart storage options with drawers and cupboards. High-mounted compressor refrigerator with freezer. Hot/cold water and cooking torches. There is also a relief table in the kitchen that can easily be flipped up when needed.via: Bobilagenten AS