The Boeing CH-47 Chinook is a tandem-rotor helicopter developed by American rotorcraft company Vertol and manufactured by Boeing Vertol. The Chinook is a heavy-lift helicopter that is among the heaviest-lifting Western helicopters.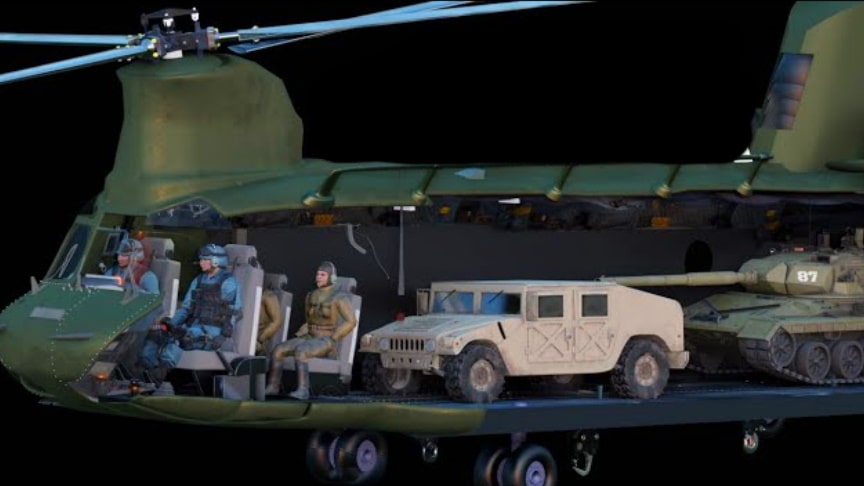 image: Learn from the base
The CH-47 is powered by two Lycoming T55 turboshaft engines, mounted on each side of the helicopter's rear pylon and connected to the rotors by drive shafts. Initial models were fitted with engines rated at 2,200 hp each.The CH-47 accommodates 33 to 55 passengers, depending on cargo area configuration. Watch the amazing video from Learn from the base:
It can carry up to 10 900 kg of cargo internally and 12 700 kg externally on a sling load. The helicopter has three external cargo hooks and can carry various loads.The counter-rotating rotors eliminate the need for an antitorque vertical rotor, allowing all power to be used for lift and thrust.
Advertisement
The ability to adjust lift in either rotor makes it less sensitive to changes in the center of gravity, important for the cargo lifting and dropping. While hovering over a specific location, a twin-rotor helicopter has increased stability over a single rotor when weight is added or removed, for example, when troops drop from or begin climbing up ropes to the aircraft, or when other cargo is dropped.
Top speed: 302 km/h
Introduced: 1962
Cruise speed: 291 km/h
Unit cost: 35,000,000–35,000,000 USD (2008)
Engine type: Honeywell T55
First flight: 21 September 1961