Titanic was equipped with three main engines—two reciprocating four-cylinder, triple-expansion steam engines and one centrally placed low-pressure Parsons turbine—each driving a propeller. The two reciprocating engines had a combined output of 30,000 horsepower (22,000 kW). The output of the steam turbine was 16,000 horsepower.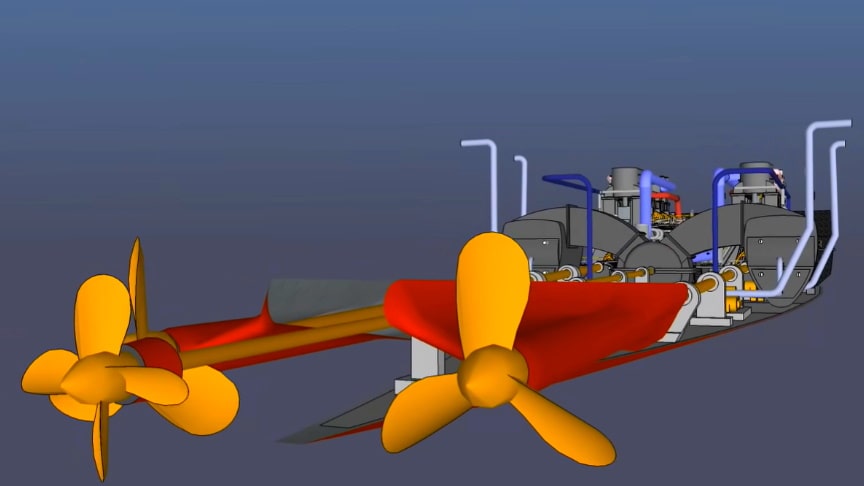 source/image(PrtSc): Hoe ishetmogelijk
I completed my first model of the Machines of the Titanic. There now are two working engines and the Low Presure Turbine including the Condensers for the middle propellor. Also the boilers, bunkers and catwalks were added. Not all the tubing for the condensers are in the model, to maintain visibility. Video by Hoe ishetmogelijk
By combining reciprocating engines with a turbine, fuel usage could be reduced and motive power increased, while using the same amount of steam.The two reciprocating engines were each 63 feet (19 m) long and weighed 720 tons, with their bedplates contributing a further 195 tons.They were powered by steam produced in 29 boilers, 24 of which were double-ended and five single-ended, which contained a total of 159 furnaces.
Advertisement
The boilers were 15 feet 9 inches (4.80 m) in diameter and 20 feet (6.1 m) long, each weighing 91.5 tons and capable of holding 48.5 tons of water.They were heated by burning coal, 6,611 tons of which could be carried in Titanic's bunkers, with a further 1,092 tons in Hold 3. The furnaces required over 600 tons of coal a day to be shovelled into them by hand, requiring the services of 176 firemen working around the clock./wikipedia