A shotgun or historically as a fowling piece) is a long-barreled firearm designed to shoot a straight-walled cartridge known as a shotshell, which usually discharges numerous small pellet-like spherical sub-projectiles called shot,or sometimes a single solid projectile called a slug.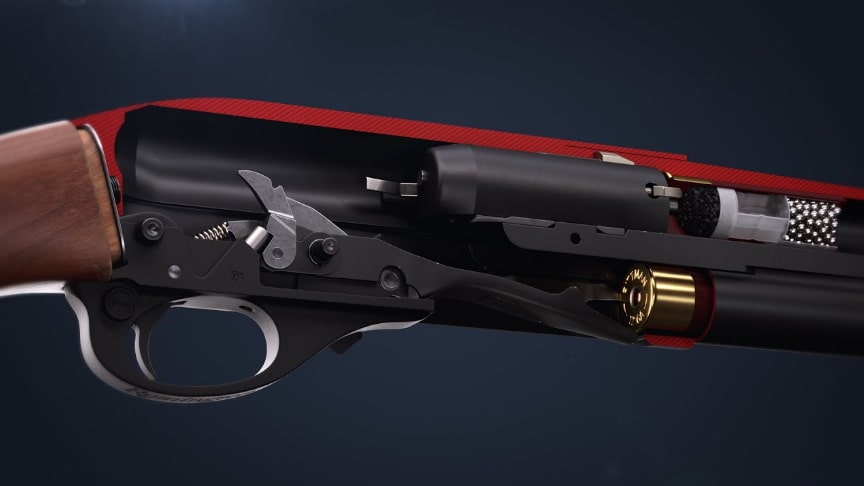 source/image(PrtSc): Matt Rittman
Pump action or slide action is a repeating firearm action that is operated manually by moving a sliding handguard on the gun's forestock.When shooting, the sliding forend is pulled rearward to eject any expended cartridge and typically to cock the hammer/striker, and then pushed forward to load (chamber) a new cartridge into the chamber. A 3D animation showing how a Remington 870 pump-action shotgun works.Video by Matt Rittman:
Nearly all pump-actions use a back-and-forward motion of the forend to cycle the action. The forend is connected to the bolt by one or two bars; two bars are considered more reliable because it provides symmetric forces on the bolt and pump and reduces the chances of binding. The motion of the bolt back and forth in a tubular magazine model will also operate the elevator, which lifts the shells from the level of the magazine to the level of the barrel.
Advertisement
After firing a round, the bolt is unlocked and the forend is free to move. The shooter pulls back on the forend to begin the operating cycle. The bolt unlocks and begins to move to the rear, which extracts and ejects the empty shell from the chamber, cocks the hammer, and begins to load the new shell. As the forend reaches the rear and begins to move forward, the elevator lifts up the shell, lining it up with the barrel. As the bolt moves forward, the round slides into the chamber, and the final portion of the forend's travel locks the bolt into position. A pull of the trigger will fire the next round, where the cycle begins again./wikipedia