The Sukhoi Su-25 Grach is a subsonic, single-seat, twin-engine jet aircraft developed in the Soviet Union by Sukhoi. It was designed to provide close air support for Soviet Ground Forces. The Su-25 has a conventional aerodynamic layout with a shoulder-mounted trapezoidal wing and a traditional tailplane and rudder.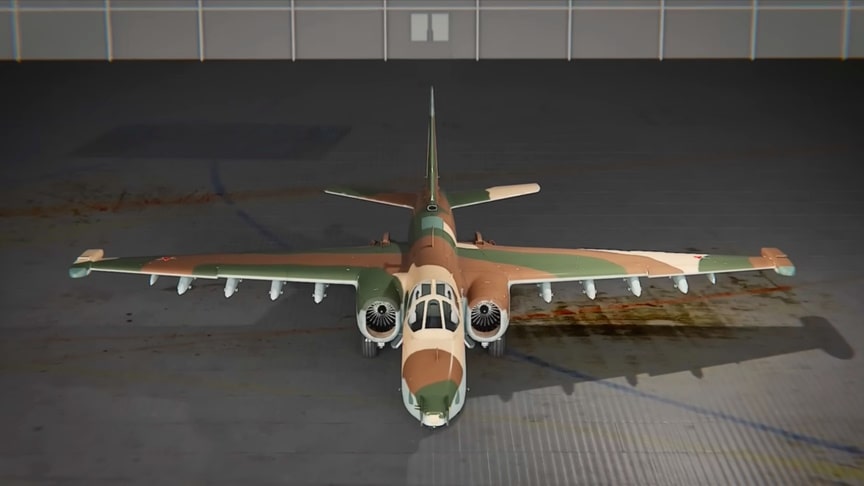 source/image(PrtSc): Found And Explained
Several metals are used in the construction of the airframe: 60% aluminium, 19% steel, 13.5% titanium, 2% magnesium alloy and 5.5% other materials.All versions of the Su-25 have a metal cantilever wing, of moderate sweep, high aspect ratio and equipped with high-lift devices. The wing consists of two cantilever sections attached to a central torsion box, forming a single unit with the fuselage.Watch the video from Found And Explained:
Each wing has five hardpoints for weapons carriage, with the attachment points mounted on load-bearing ribs and spars.Early versions of the Su-25 were equipped with two R-95Sh non-afterburning turbojets, in compartments on either side of the rear fuselage. The engines, sub-assemblies and surrounding fuselage are cooled by air provided by the cold air intakes on top of the engine nacelles.
Advertisement
The engine control systems allows independent operation of each engine.The latest versions (Su-25T and TM) are equipped with improved R-195 engines.The pilot sits on a Zvezda K-36 ejection seat (similar to the Sukhoi Su-27) and has standard flight instruments. At the rear of the cockpit is a six-millimetre-thick (0.24 in) steel headrest, mounted on the rear bulkhead. The cockpit has a bathtub-shaped armoured enclosure of welded titanium sheets, with transit ports in the walls.via