A tribute to the timeless shapes of the Italian coachbuilders and racecars of the '60s, presenting clean lines and sinuous, elegant shapesA project born from the joint vision of client and designer.Limited production of just five tailor-made examples, all sold-out, with prices starting from € 7 million.Created by the dedicated division for special projects: Pagani Grandi Complicazioni.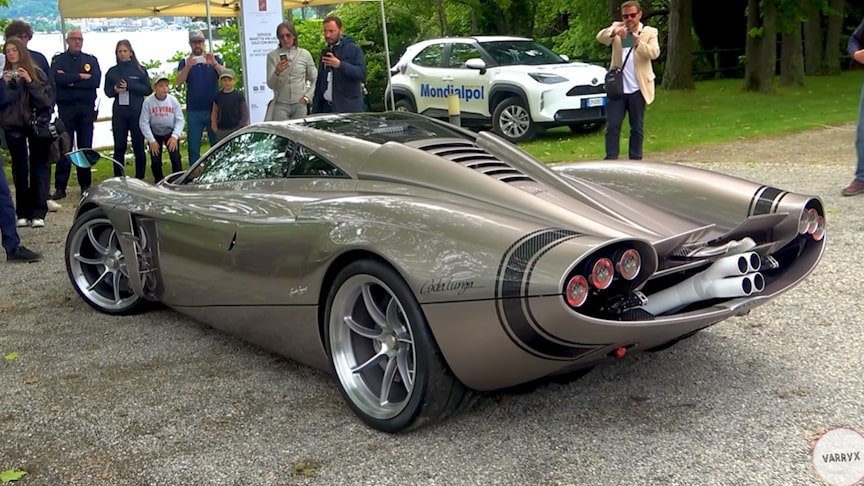 source.image: Varryx
The rear engine cover, which has a footprint of more than 3.7 m2, and is 360 mm longer than the one of the Huayra Coupé, conceals a mechanical prodigy: the Pagani V12, which, on this series, is capable of developing 840 HP with 1,100 Nm of torque.
The lack of rear grilles makes space for an unobstructed view of the Codalunga's exhaust system, which is made from titanium and weighs only 4.4 kg (9.7 lb). The special ceramic coating completes the homage to the racing cars of Le Mans and the symphony that emanates from the signature four tailpipes is a tribute to automotive passion.The work "to take away rather than add" resulted in a record weight of just 1,280 kg (2,822 lb) and extremely high aerodynamic efficiency, helped by the car's shape and extra length.
Advertisement
The four flaps with variable profiles represent the very latest in active aerodynamics, a feature which had its world preview in 2011 and which has been subsequently refined with each model.The car is powered by a 6.0 liter twin-turbocharged V-12 producing 829 hp at 5,900 rpm and 809 lb-ft of torque from 2,000-5,600 rpm. It's backed by an Xtrac seven-speed sequential transmission for true, racecar inspired performance.