The EarthRoamer LTi is designed from the ground up to be the ultimate adventure vehicle. Every LTi is built on a four-wheel drive Ford F-550 chassis with a quiet, efficient, and powerful 6.7L turbo diesel V8 engine. With a towing capacity of up to 10,000 pounds, you can bring along all of your toys. Wherever you take it, Ford's premium Lariat interior trim package offers comfort and luxury not usually found in a rugged expedition vehicle.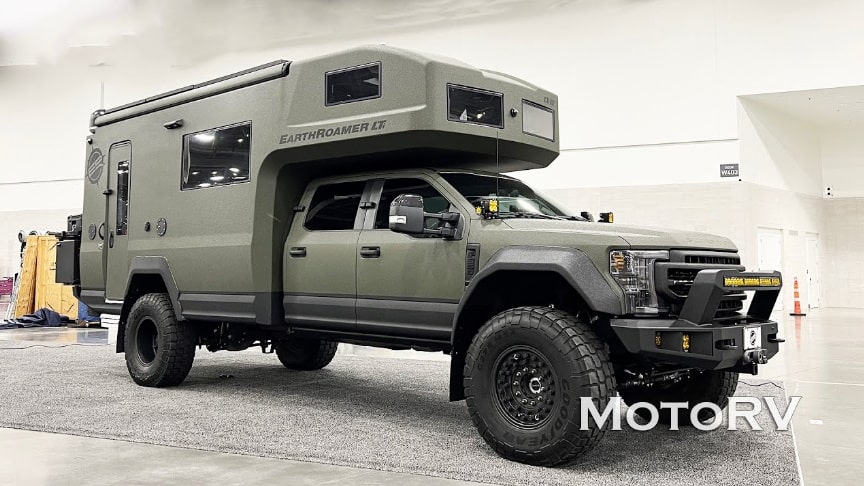 source: earthroamer/image(PrtSc): MotoRV
The EarthRoamer LTi includes a vacuum-infused carbon fiber camper body, lithium-ion battery bank, bunk side windows, increased water capacity, and a touch screen interface all built on the Ford F-550 chassis that we know and love. This fully-equipped ultimate off-road camper is the most advanced EarthRoamer overland vehicle ever made and comes ready to hit the road, or whatever you choose to drive it on, the moment we hand you the keys.
The truck equipped with air ride suspension with heavy duty front and rear stabilizer bars, heavy duty remote reservoir shocks.The camper body of the EarthRoamer LTi is the strongest and most capable in the world. This is achieved by using a one-piece molded design with no seams to leak or fail structurally, creating a stronger, safer, and more reliable living space.
Advertisement
Fiberglass sandwich construction is used in yacht hull and aircraft manufacturing, but EarthRoamer was the first to use this technology in expedition vehicle manufacturing. In addition to improved aesthetics, aerodynamics and thermal insulation, our one-piece bodies require no metal support structure which could lead to reduced insulation. Better insulation reduces heating and cooling energy requirements, which makes solar and battery power viable energy sources.