A model engine is a small internal combustion engine typically used to power a radio-controlled aircraft, radio-controlled car, radio-controlled boat, free flight, control line aircraft, or ground-running tether car model.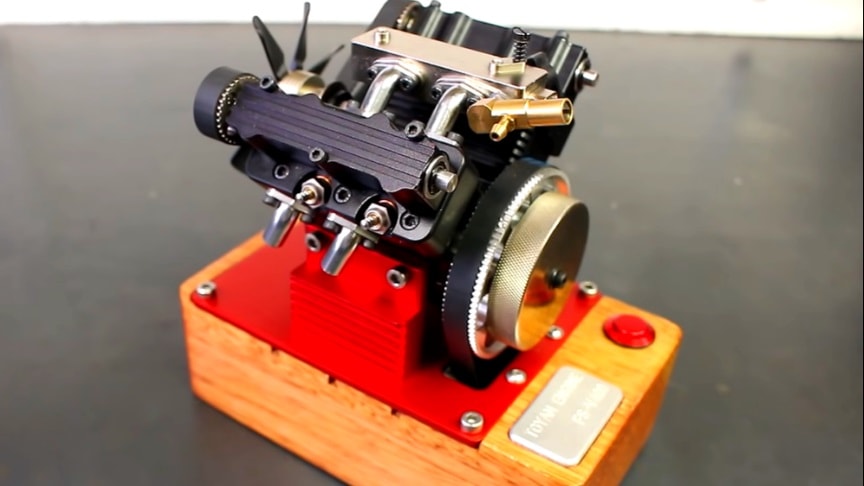 source/image: JohnnyQ90
The model engine Toyan FS V400A Engine: Weighing 1150g, small size and large horsepower, need 7.4V or 11.1V battery start, the battery needs to be T-plug, the female head is on the engine end, and the electric rotor is needed.
The electric rotor is a general-purpose product, using methanol fuel, this kind of fuel formula is generally:20% castor oil, nitromethane 5-30%, the rest is methanol; this product does not require high concentration methanol fuel,and can be used at a concentration of 20-25%.
Advertisement
Working Principle: Using methanol as fuel. The process of moving from one end of the cylinder to the other when the piston reciprocates within the cylinder is called a stroke. The four-stroke engine is divided into an intake stroke, a compression stroke, a power stroke, and an exhaust stroke.
Specifications:
.Color: As Shown
.Material: Plastic + Metal
.Engine Dimensions: 113.37 x 97.54 x 100.9mm
.Cylinder Diameter: 17mm
.Piston Diameter: 16.6mm
.Displacement: 3.5cc x 4
.Output Power: 3.2zzps horsepower
.Speed: 2500-9600rpm