The turbofan or fanjet is a type of airbreathing jet engine that is widely used in aircraft propulsion Airbreathing jet engines typically feature a rotating air compressor powered by a turbine, with the leftover power providing thrust through the propelling nozzle—this process is known as the Brayton thermodynamic cycle.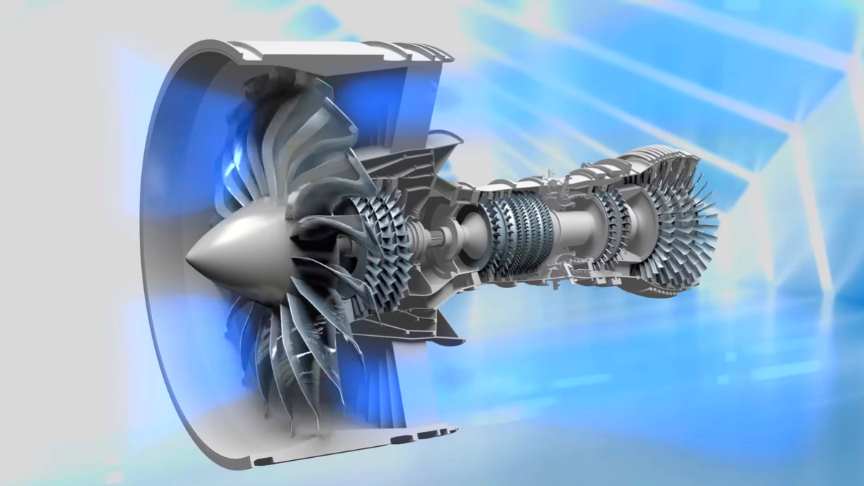 source/image(PrtSc): Pratt & Whitney
The turbo portion refers to a gas turbine engine which achieves mechanical energy from combustion, and the fan, a ducted fan that uses the mechanical energy from the gas turbine to accelerate air rearwards.
Jet aircraft use such engines for long-distance travel.The incoming air is captured by the engine inlet. Some of the incoming air passes through the fan and continues on into the core compressor and then the burner, where it is mixed with fuel and combustion occurs. The hot exhaust passes through the core and fan turbines and then out the nozzle, as in a basic turbojet.
Advertisement
The ratio of the mass-flow of air bypassing the engine core compared to the mass-flow of air passing through the core is referred to as the bypass ratio. The engine produces thrust through a combination of these two portions working together; engines that use more jet thrust relative to fan thrust are known as low-bypass turbofans, conversely those that have considerably more fan thrust than jet thrust are known as high-bypass. Most commercial aviation jet engines in use today are of the high-bypass type.via/read more: wikipedia