Bike.Box is an innovative bicycle parking. The smart and space-saving design keeps bicycles out of sight and makes storing bicycles simple. bike.box can be installed above ground but can also be installed underground and modular. A floor consists of 15 boxes and 1 elevator shaft. However, a bike.box floor is only 1.5 meters high and has a diameter of a maximum of 5.10 meters. This makes bike.box unique in its kind.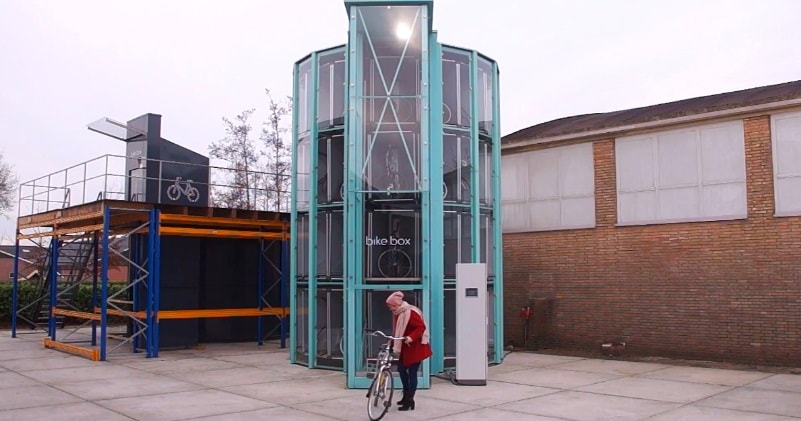 The boxes have an economical and space-saving design. The user places the bicycle backwards in the box and turns the handlebars. The specially designed guide rods on the edges of the box make it easy to place the bike backwards. Placing the bicycle with the front wheel turned saves 15 percent in space.
As a result, there is also room for larger bicycles, bicycles with a rack, crate, panniers, child seat or for supplies such as a bicycle helmet or rain gear.With the above-ground bike.box, the appearance can be carried out completely according to your wishes. In addition to glass, it is also possible to provide bike.box with mirrors, branding or solar panels.
Advertisement
The above-ground bike.box also offers various multifunctional options for creating a meeting place or point of sale. This makes the bike.box not only the solution for storing bicycles but also a central place for public facilities or commercial purposes.