The Apollo Intensa Emozione, sometimes referred as the IE, is a mid-engine sports car manufactured by German automobile manufacturer Apollo Automobil GmbH, in partnership with Manifattura Automobili Torino, designed by their chief designer Jowyn Wong.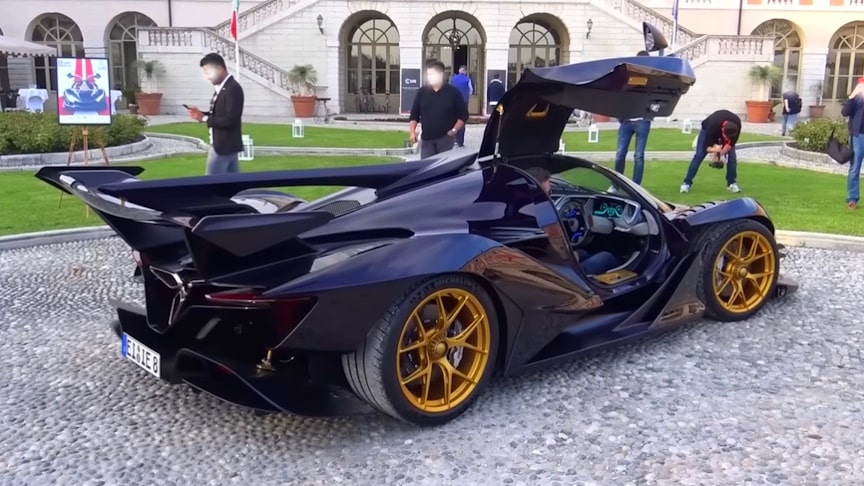 source.image: NM2255 | Raw Car Sounds
The car is made almost entirely out of carbon fibre,but it does include high-strength steel, aluminium, and titanium components.The engine bay is left uncovered, to allow the air intake to operate with maximum efficiency.The entire chassis weighs only 105kg.In this video you can hear Apollo IE's 780hp 6.3 liter Ferrari V12 engine being fired up and revved up! My ears are still bleeding from how loud that thing is!
The exterior design is based on airflow and nature, insects and marine animals in particular. The interior is based entirely on the nature theme, with a cocoon-style carbon fiber tub cockpit, in the style of a leather-wrapped prototype race car.
Advertisement
The Intensa Emozione uses a Ferrari derived 6.3-litre naturally-aspirated F140E V12 developed by Autotecnica Motori and HWA AG. It is rated approximately 791 PS 780 hp at 8,500 rpm and around 760 N⋅m of torque at 6,000 rpm. The engine reportedly has a redline of 9,000 rpm. All of the power is sent to the rear wheels through a 6-speed Hewland sequential manual transmission.The weight stands at 1,250 kg.The Intensa Emozione is capable of accelerating from 0–97 km/h (60 mph) in 2.7 seconds, with a projected top speed of 335 km/h (208 mph).