The Audi AI:CON exploits every possibility offered by a autonomous luxury sedan of the future with unprecedented consistency. As a design study, the four-door 2+2 boldly leaps ahead to show the exterior and interior design of the next decades. The technology demonstrator combines innovations relating to the drivetrain, suspension, digitalization and sustainability in a visionary manner. And as a mobility concept, the Audi AI:CON shows the world of tomorrow, in which the advantages of door-to-door individual transportation are combined with the luxurious ambiance of a first-class airline cabin.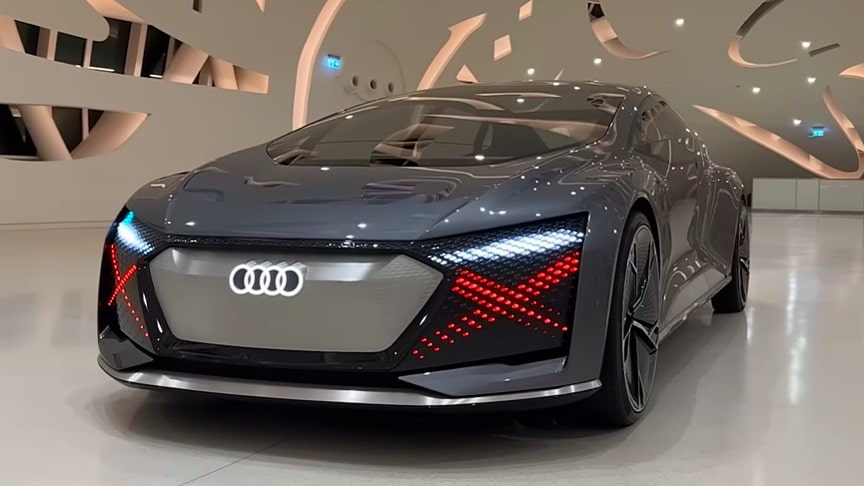 source.image(PrtSc): Supercar Blondie
This is Audi's new concept car, the Audi Aicon. The futuristic car has a ton of cool features including intelligent light displays, suicide doors and a huge interior with surprisingly no steering wheel. Today, Tuesday shows you what makes the Audi Aicon one of the coolest cars of 2023. This is the new Audi Aicon! Watch the video from Supercar Blondie:
The Audi AI:CON looks spectacular from any angle. Its sheer size – an exterior length of 5,444 millimeters (17.9 ft), a width of 2,100 millimeters (6.9 ft) and a height of 1,506 millimeters (4.9 ft) – places it in the automotive top tier, the D segment.The designers reduced the front and rear ends to a minimum of lines and focused on large, uninterrupted surfaces. As with the Audi e-tron Sportback concept, the AI:CON front features the inverted hexagonal Singleframe, a typical feature of the upcoming generation of electric cars from Audi.
Advertisement
Underneath its sleek exterior, the Audi AI:CON boasts a powerful electric drivetrain, incorporating four electric motors located in the front and rear axles. These motors deliver a combined power output of 260 kW and 550 Nm of torque, enabling electronically controlled, variable quattro all-wheel drive. The AI:CON prioritises efficiency and range, with a targeted lightweight construction and optimised aerodynamics contributing to a remarkable range of 700 to 800 kilometres on a single charge. Furthermore, the high-voltage system with 800 volts allows for rapid charging, with the battery reaching 80% capacity in less than 30 minutes.