This is the new Hyundai Trailer Drone truck concept.The Trailer Drone concept is a hydrogen-powered container transportation system capable of operating fully autonomously. With the number of intelligently packaged hydrogen tanks tailored to the journey profile, the flexible and efficient Trailer Drone ensures more than 1,000km of sufficient range from a single charge, comparable to existing container transportation systems.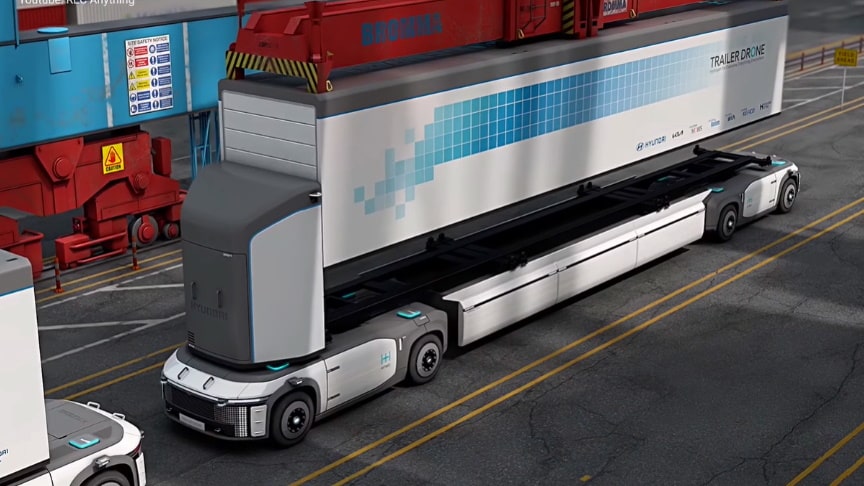 source/image(PrtSc): REC Anything
The autonomous capabilities of the Trailer Drone were not achieved by simply repurposing technology developed for passenger car applications. The unique requirements of container transport applications and the way container terminals operate meant that engineering teams from the Group needed to completely redefine how a container maneuvers. As a result, the engineering team developed the 'Fuel Cell e-Bogie'.
The Trailer Drone concept requires two fuel cell e-Bogies, allowing for unprecedented maneuverability through sideways movement. The Trailer Drone can move autonomously through portside operations and tight urban environments. Efficiency is further boosted by the 'Cluster Mode' which enables multiple Trailer Drones to travel together in an almost train-like configuration.
Advertisement
The Fuel Cell e-Bogie is not exclusive to the Trailer Drone and caters to a wide value chain such as ground logistics, construction, firefighting and disaster relief missions. It offers a multi-purpose platform, capable of a variety of objectives – all in zero-emission and autonomous operation./REC Anything