Gino Gargiulo build a ne Lamborghini Aventador Superveloce Powerboat.Exotic Car TOY RALLY 2016.The catamaran is powered by twin Mercury Racing engines that produces 1,350-horsepower.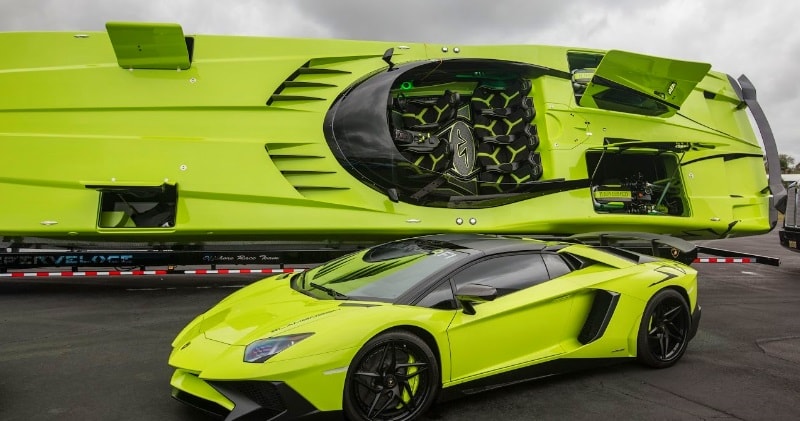 source/image: Mike Supercars TopSpeed
This is enough push the boat uo top speed of 180 mph on the open water.  It even has two fuel systems – one tank for 93-octane fuel and another for race fuel with their own pumps for the switchable power engines./Mike Supercars TopSpeed
The 52-foot catamaran is made from carbon fiber and has been custom build to differentiate it from the regular 48 and 52-foot MTI boats, the cockpit is about a foot shorter and narrower for a more race inspired feelingBoth the boat and the car are done up in matching bright green hues with black trim.
Advertisement
Inside, the boat has some real Lamborghini parts like its steering wheel, headlights, door panels, and waterproofed Lambo HVAC and infotainment controls. The Aventador SV Roadster is selling for $649,000, while the boat and trailer have a price tag of $1.4 million.