The Aérospatiale SA 315B Lama is a French-Indian single-engined helicopter developed to meet hot and high operational requirements of the Indian Armed Forces. It combines the lighter Aérospatiale Alouette II airframe with Alouette III components and powerplant.//wikipedia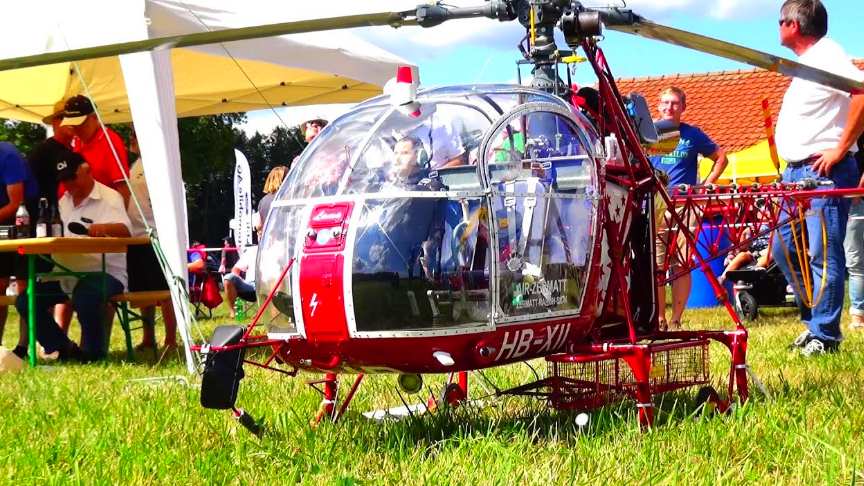 source/image(PrtSc): RCHeliJet
Here we have a giant model Scale: 1:2,6 of the SA315B Air Zermatt that hat a full length of 5.50m and a rotor diameter of 4.50m, the helicopter is powered by a Jakadofsky Pro X turbine engine. The helicopter has a three bladed rotor.
The weight of the helicopter is 84kg the maximum fuel that the helicopter can have is 17 liter Kerosene for 1x flight is needed around 1,5 liter.The hinged doors are large at 340 x 310 mm, and extra strength is obtained from integral corrugations in the GRP frame.
Advertisement
The fuselage is of impressive length, but transport is eased by the removable tail boom: the entire boom can be removed after undoing just three screws.The turbine version fascinates by the smell of kerosene, a gently starting rotor, accompanied by the unmistakable sound of a turbine.
Pilot and Builder Robert Illmaier from Austria
Model Data:
Scale: 1:2,6
Rotor diameter: 4,50 meter
Full Length 5,50 meter
Max. Fuel: 17 liter Kerosene for 1x flight need around 1,5 liter
Weight: 84 kg
Turbine is a Jakadofsky Pro X