Avro Vulcan XH558 Spirit of Great Britain was the last remaining airworthy example of the 134 Avro Vulcan jet-powered delta winged strategic nuclear bomber aircraft operated by the Royal Air Force during the Cold War. This model is huge with a 20ft wingspan and more wing area than you can shake a stick at.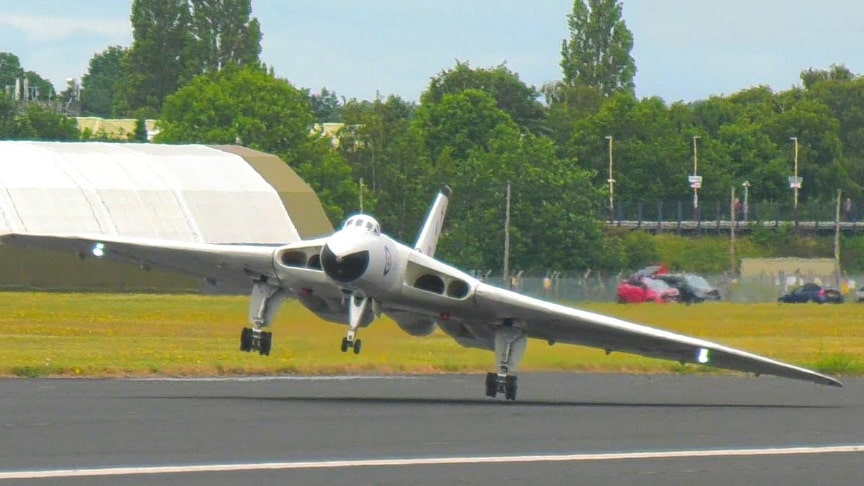 image: Essential RC
The take off is very scale like and the flight goes smoothly until a flame out occurs mid flightDavid and his team spent four years painstakingly creating a fifth scale model of the bomber out of balsam and plywood. Always a joy to see Dave Johnson fly this extraordinary model. Flown with great skill. You would almost think XH558 was flying again !
The model has a 20ft wingspan and can fly at 150mph.The model ariplane weighs around 139 kg-300 ilbs,she has over 100 sq ft of wing area with a wing loading of 3ilb-square foot – similar to a large glider.
Advertisement
She is powered by four jetsmunt 160 gas turbines which produce 155 ilbs of thrust combined and carries 20 kg of fuel to feed them !She also has around 8 kg of lead ballast onboard to balance her correctly.Filmed by Dom Mitchell for the 'Essential RC' YouTube channel using the Panasonic AG-UX180 4K camcorder at Large Model Association (LMA) Cosford Show 2022. Thanks to Dave Johnson and his team for their hospitality.