The Little Nellie gyrocopter from the movie You Only Live Twice 1967 is one of James Bond's most iconic modes of transport. This model is beautifully selfmade by Ernst Keplinger. Little Nellie is a small one person autogyro helicopter, fully fitted out with a powerful selection of gadgets.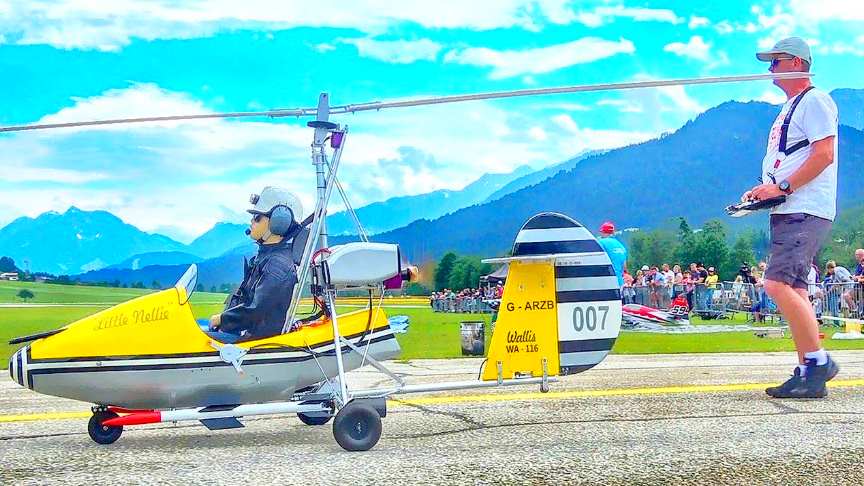 source/image(PrtSc): DIGITAL RC
The RC 'Little Nellie' Gyrocopter comes into its own, using a fierce array of weaponry that includes front-mounted machine guns, rear mounted flamethrowers and a battery of rockets.
This selfmadedie model is based on the designs and models in the Bond Archive. Made to a 1:4 scale, with fully moving parts, the model is presented in a window box with James Bond graphics.
Advertisement
The RC Gyrocopter has a length of 2.46m a height of 1.34m, the rotor diaeter of the gyrocopter is 4.2m. The delfmade Little Nellie gyrocopter is powered by a Hacker A200 15KW electric motor powering the 30-12 Propeller. The Weight of the gyrocopter is 34,5 kg and can reach a high speed of 155 km/h.
Model: Little Nellie Gyrocopter; selfmade by Ernst Keplinger
Pilot: Ernst Keplinger
Weight: 34,5 kg
Scale: 1:1.4
Lenght: 2,46 m
Height: 1,34 m
Rotor: 4,20 m
Motor: Hacker A200 15KW
Propeller: 30-12
Batteries: SLS LiPo 12S (12.000 mAh)
Speed: 155 km/h
Event: Airdrenalin 2019, St. Johann (AT)