The Blumil GO is unique in so many a lot aspects, starting from the design to performance. But what makes it really stand out is the connecting mechanism. You don't need to use any force to transform your manual wheelchair to an electric handbike.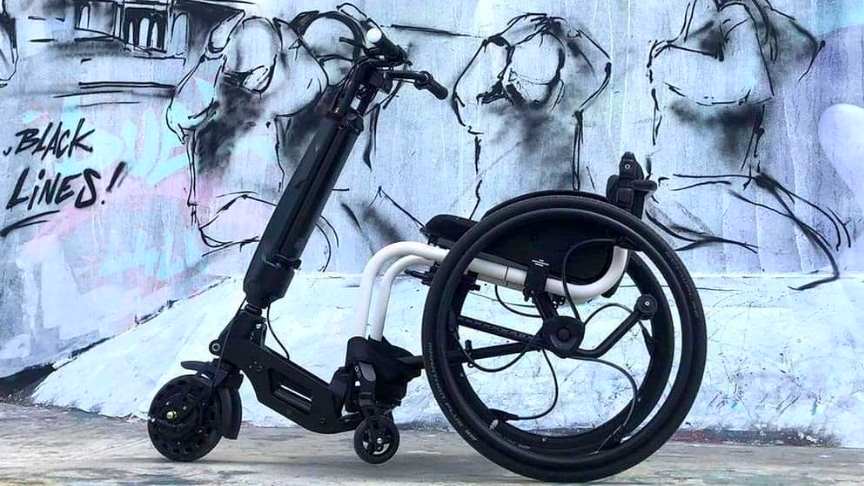 You don't need to attach anything to your wheeclahir. You just press a button and GO. It's that simple.The connecting and folding take place at the touch of a button. Driving is almost as comfortable, and you control the throttle and brake by two easy to push levers.
Blumil GO is an electric handbike attachment for rigid frame wheelchairs. It has a unique patented connecting mechanism, that is all electric. Thanks to this attaching is easy and NOTHING needs to be attached to the wheelchair itself.
Advertisement
It only weighs 13 kg, INCLUDING the battery. There are NO additional parts that you need to install on your wheelchair. The complete system that connects to your wheelchair in 5 seconds is that light, the range of the Blumil Go is approximately 30 km per charge, thanks to a reliable 280 Wh LG battery.
The Blumil GO has 3 speed modes. Choose whichever you feel comfortable with. With the standard mode the top speed is 10 km/h. It's great when you are starting to learn how to drive. This can be increased to 16 km/h.via/read more: blumil
Specifications:
– 300 W motor
– LG battery 7,8 Ah, 280 Wh
– Range 30 km
– Top speed 30 km/h
– Total weight with battery – 13 kg
– Front wheel size 8″
– electronic display
– built in lights
– patented, electric connecting mechanism
– double braking system