The car's / cycle's Owner is Joe Skonecki.Joe started working on the idea in 2000. As Joe continued progress on design, the Quadracycle was titled and registered in 2009. This is one unique ride.A custom-built, four-wheeled motorcycle with a V8 cranking out up to 750HP. It'll even tow a trailer.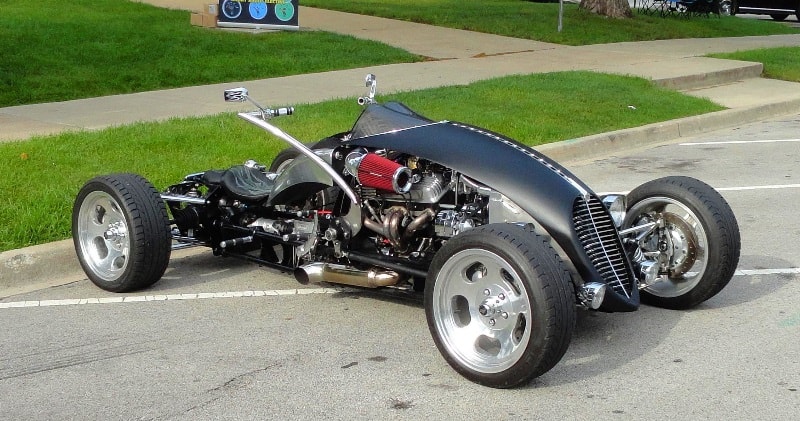 source/image(PrtSc): Lou Costabile
Within 2.8 seconds of laying the throttle wide open, you're already at 60 MPH. Leave it there another 3.2 seconds and you're in felony territory at 120 MPH.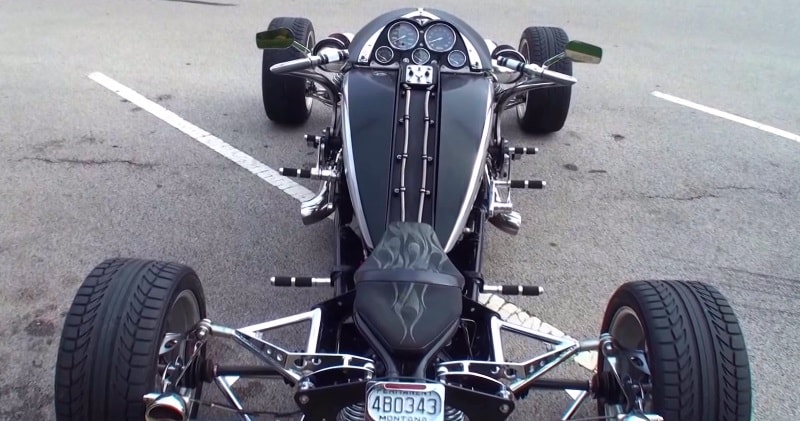 source/image(PrtSc): Lou Costabile
This is the kind of thing a 455 cubic inch V8-equipped, 750 HP Brimstone Quadracycle is capable of.The chassis is constructed from round chrome-moly tubing with bulkheads of mild steel plate the wheelbase is 103 inches while the track is 56 inches front and rear.
Advertisement
Suspension is independent at both ends, with a Heidt's coilover setup up in front and Team 321 components at the rear allied with a Lincoln 8.8-inch centersection. Mounted just in front of the differential, on the opposite end of a very stubby driveshaft, is a GM 700-R4 automatic transmission.
Joe points out that every part possible is made in the USA, too, just trying to keep some of the guys over here gainfully employed in the high speed and horsepower business, can't argue with that.Joe cites performance numbers of 0-60 in 2.8 seconds, 0-120 in 6 seconds while still getting 15 to 30 miles per gallon.