Prepare to embark on thrilling journeys with the EXP-7, our latest model that seamlessly combines the best features of its esteemed brothers, the EXP-6 and the EXP-8. This remarkable creation takes innovation to new heights, offering unparalleled comfort, convenience, and style.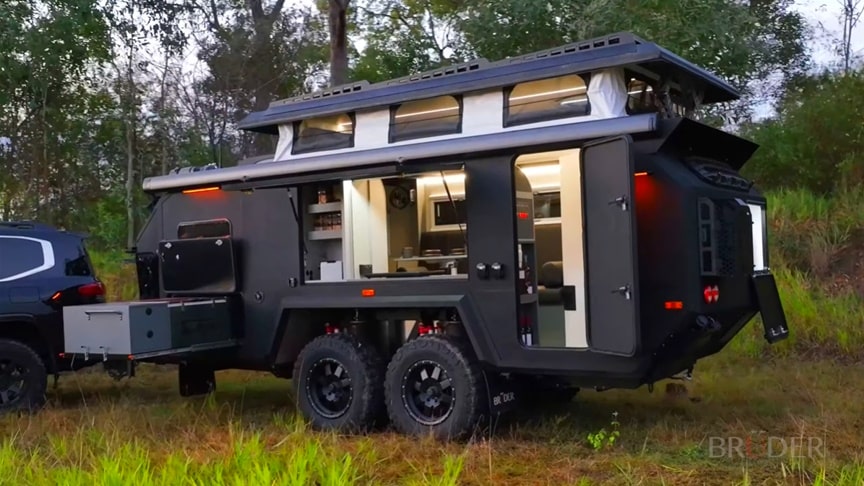 Drawing inspiration from the EXP-8, the EXP-7 boasts doors on both sides, allowing easy access to its remarkable interiors. But that's not all! We've taken it a step further by integrating the shower/toilet areas, which also serve as a convenient mud room. Say goodbye to messy adventures and hello to effortless cleanliness!
Moreover, the EXP-7 inherits the coveted two-way and slide-out kitchen from the beloved EXP-6. Prepare gourmet meals while relishing the breathtaking views of nature, thanks to this incredible feature. Whether you're cooking for a cozy evening under the stars or hosting a gathering in the great outdoors, the EXP-7's kitchen is your ultimate culinary companion.
Advertisement
As with all Bruder's during the design phase the EXP-7 was designed with aerodynamics in mind and the shape being finessed in a digital wind tunnel to ensure optimal performance whilst towing. Engineered using Bruder's lightweight and immensely strong composite materials means the EXP-7 can handle 5 times it's own weight and almost any terrain. Reliability and redundancy are baked in with the EXP-7.
Whether it's the Sahara desert, Fraser Island or the top of the Rocky Mountains rest assured, the EXP-7 will take you there and offer the ultimate in luxury along with the ability to stay there completely off-grid with features such as; remote water pick up, large lithium battery and powerful solar array.