With Madrid rents too high for young architects Ignacio and Pilar, they decided to turn their studio into a stealthy home. They buried the kitchen essentials – refrigerator, pantry – inside the walls of their workspace and added a second room to serve as their bedroom.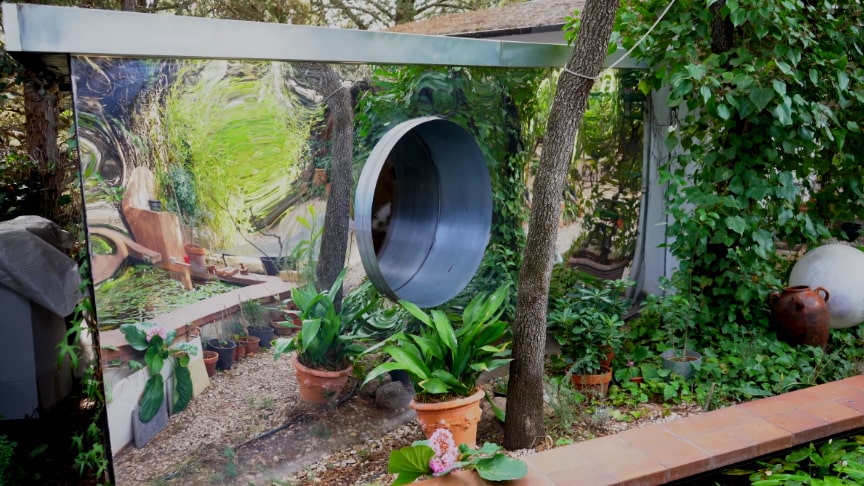 source/image(PrtSc): Kirsten Dirksen
To avoid drawing attention to the residential addition, they clad it in a reflective surface (methacrylate with a mirror finish) so it would take blend with the garden.The couple dubbed their home "The Burrow" both because of its stealth mode and because it is partially underground; they also call it "a lair, a hideout, a shelter".
Besides a small sliver window in the back, the bedroom's only opening to the outside world is through a round, galvanized steel window, "the oculus", "which reflects and blurs the incoming light".There were originally two skylights on the structure, but 2021's Storm Filomena – Spain's largest snowstorm in 50 years – knocked a tree onto the home and broke the glass.
Advertisement
The home itself withstood the incredible snow loads, though the couple was snowed in for a week.The space is a mix of natural materials like the cork-clad ceiling (as insulation) and the thatch roof. Ignacio and Pilar say they worried at first that clients might not see their home-studio as professional enough, but instead, they find that while clients may not want to build their own burrow, they fall in love with the coziness of the space./Kirsten Dirksen