Burstner Lyseo T728 G has, among other things, a spacious interior feeling and, among other things, a large garage, a separate bedroom at the back with simple longitudinal beds that can easily be converted into a large double bed if desired. Cruise control in combination with a powerful engine and good pilot seats with armrests lay the foundation for a comfortable ride. Smart hatch on the outside with taps gathered in one place is a smart patent from Burstner.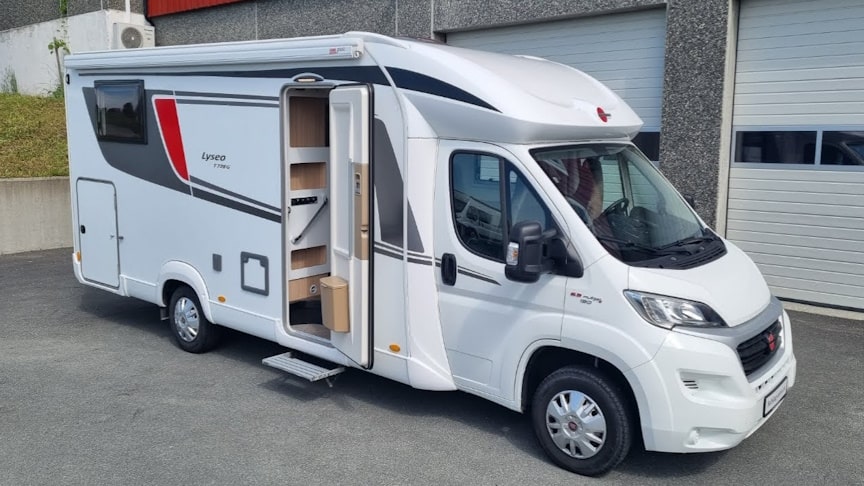 source.image: Bobilagenten AS
Can be driven on a normal driving licence, class B.Outside, you have outside lights, an extra-wide living room door, an electric step, a large garage with plenty of space and a loading rail. You will find, among other things, a nice interior with great colours, reversible pilot's seats with armrests, air conditioning system, airbags on both sides, DAB+ radio, cruise control and on-board computer.
Large window surfaces and roof hatches provide plenty of light. The windows have curtains, blinds and mosquito nets. Reversible pilot chairs with armrests form a pleasant seating area! The large table in the seating area can be easily folded out as needed for an even larger table surface. Notice the beautiful interior with gorgeous details. Bright and pleasant colors in the interior and lots of light and mood lighting set the mood for a pleasant trip.
Advertisement
Kitchen with hot/cold water, hotplates, large automatic fridge with freezer. Notice the good storage options in the kitchen and cupboard space all around. Also note the pull-out solution for storage in the kitchen.At the back of the motorhome you will find a bedroom with a sliding door that has two single longitudinal beds that can easily be converted into a double bed with simple handles. Note the retractable step with storage.In the driver's environment, you will find reversible pilot's chairs with armrests, air conditioning and airbags on both sides. Cruise control is very comfortable to wear on a trip.