The Carver is a 100% electric vehicle that can carve through traffic. Unlike four-wheeled vehicles the Carver is narrow at just 98cm so has the ability to reduce congestion. Unlike a motorcycle the Carver has three wheels for added stability, the driver and passenger both have seatbelts and they're protected by a steel frame.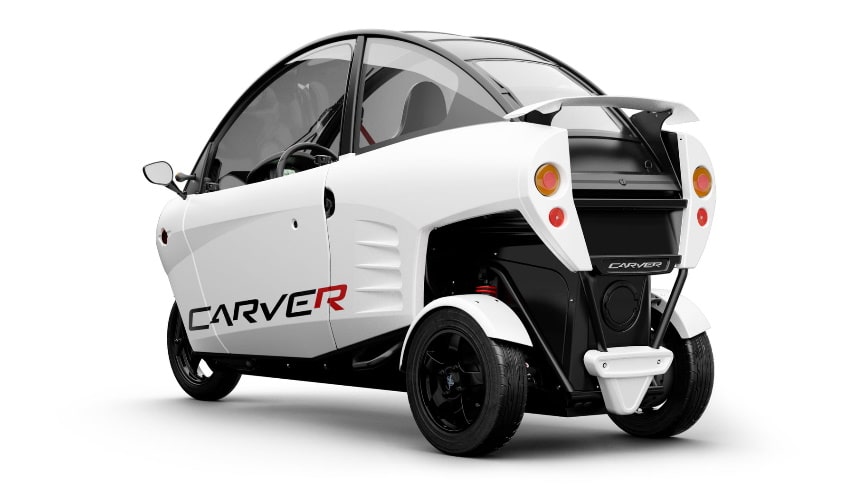 carver/image: CarverElectric
The Carver maintains the fun of a motorcycle by being able to lean into corners, using the patented Dynamic Vehicle Control (DVC) system, and offering all weather protection. In hot and sunny weather the roof is fully convertible and the front windows can also be removed enhancing its sporty nature.
Carver is remarkably silent and can travel long distances on a single charge – say from Amsterdam to Utrecht and back. It has a top speed of 45 km/h, and a range of 100 km. Its advanced tilt technology offers remarkable stability and balance when cornering. It has a max tilting angle of 40 degrees.
Advertisement
Carver avoids congestion and pollution (ULEZ) charges.It has low running costs approximately £1* for 5 hours electricity to fully charge the battery giving a range of around 62 miles (100km).The Carver provides a 75 liter baggage compartment which is about half as small as the baggage compartment in a small car."DVC or Dynamic Vehicle Control is the patented central technology behind the Carver's ability to 'Fly The Road'.
"
The scooter has a innovative tilt-system that enables the scooter to make steep turns, safely. It is named Dynamic Vehicle Control (DVC™) or controlled balance system. The system makes it extra easy to drive the scooter.The scooter is just 98 cm wide which is comparable with a motorcycle and that makes it easy to park the scooter.The Carver is a vehicle built to a simple design brief: to get one or two people across a city cheaply, safely, and without getting rained on – all of which it does beautifully.