Jointly developed by the CNH Industrial international design and CASE engineering teams, this concept is a clear departure from anything seen to date in the construction industry.The concept reflects both the increasing importance of alternative fuels, and demonstrates their viability in the construction environment.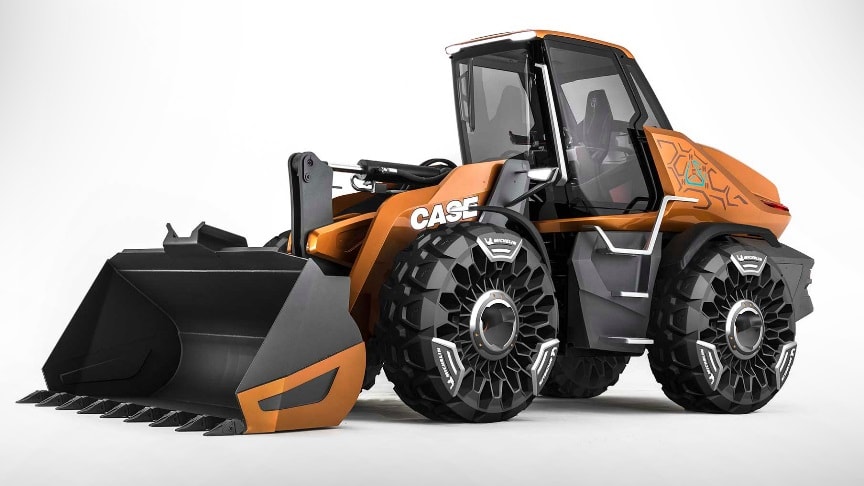 source/image: CNH INDUSTRIAL
The concept wheel loader is powered by a proven methane engine, produced by sister brand FPT Industrial, and delivers exactly the same performance as its diesel equivalent. This is combined with cutting edge styling and an advanced operator environment, which makes extensive use of touchscreen and voice control technologies.
Furthermore, innovative safety features include biometric technologies together with an obstacle detection system, which is derived from CNH Industrial's autonomous vehicle research and development program.It's powered by biomethane Which is produced in biodigesters from waste products such as waste food, wood chippings and animal waste,
Advertisement
The engine produces 230 horsepower, and has "diesel-like" performance. The methane-powered wheel loader concept produces 95% less CO2 when running on biomethane, 90% less nitrogen dioxides and 99% lower particulate matter than a diesel-powered equivalent.An exclusive partnership with Michelin led to the development of innovative airless concept tyres for ProjectTETRA. Constructed from pure rubber and a patented composite material in a honeycomb spoke design, the tyre/wheel fusion also features built-in suspension.