This is the Audi Activesphere. A new concept car by Audi that turns from pickup to SUV in seconds. The cars interior offers Audi's new Augmented Reality technology and has some of the coolest car tech in the world.By combining opposites in perfect synthesis, the Audi activesphere proves to be a versatile crosser of boundaries, with a drive system and suspension which make it equally adept on both on and off the road.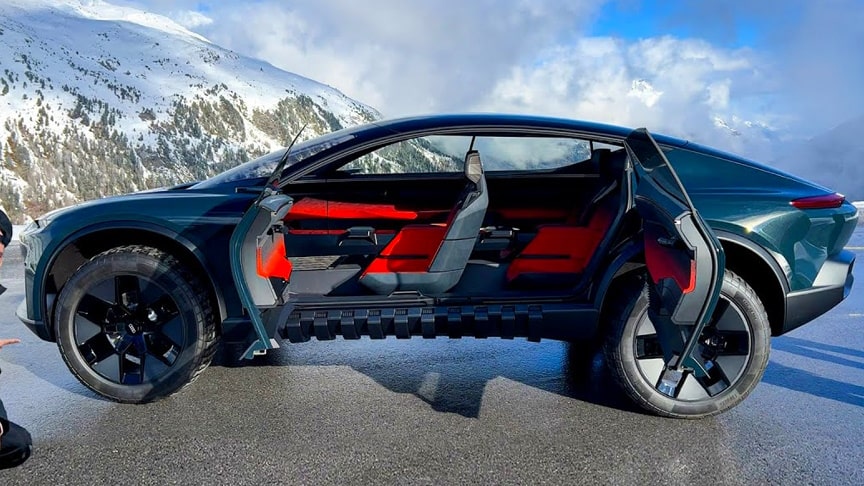 The steering wheel and pedals allow the driver to actively control the car, while also offering autonomous driving for a more relaxed time on the road. As a coupé that is as elegant as it is dynamic, it features classic proportions and lines, but in just a few seconds, the car transforms into a pickup for transporting top-class sports gear – there is even enough space for two e-bikes in the cargo bed.Video by Supercar Blondie:
The concept car was conceived and designed at the Audi Design Studio in Malibu, just a stone's throw away from the Pacific Coast Highway, the legendary coastal road. Studio manager Gael Buzyn and his team are the creative minds behind the project. He describes the idea behind the project: "The activesphere is unique. It is a new type of crossover that cleverly combines the elegance of an Audi Sportback, the practicality of a SUV and true offroad capabilities."
Advertisement
With an electric drive and quick-charging technology from Audi's PPE modular system, the Audi activesphere joins the sphere family of concept vehicles. With no local emissions, a range of over 600 km, and extremely fast charging times thanks to 800-volt technology, it combines the sustainability, dynamics and long-distance capability of state-of-the-art electric vehicles.