Marlena and Eugene built their homestead in Blanco, Texas using salvaged windows, doors, wood flooring, tile, a bathtub, a lot of plywood, and some lumber. After over a decade of building, they now have a completely off-grid home, workshop, garden, and rental cabin.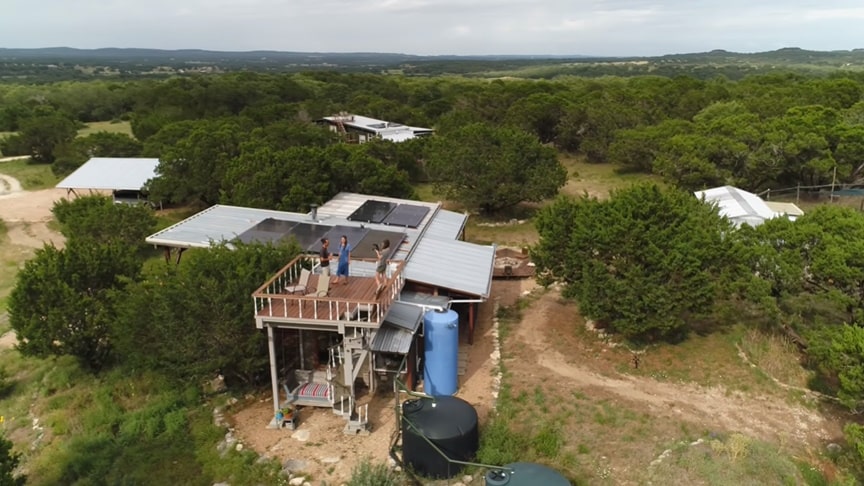 source/image: Kirsten Dirksen
While they did spend for the new 23 solar panels that run the three buildings, they bought all six of their 500- to 700-gallon rainwater barrels for a few hundred dollars each instead of the 1,000 they cost new.When Eugene first arrived on the property, as a caretaker for the main landowner, he pitched a tent as his home, but he still spent nights in Austin (often at his mom's home). Slowly he began to build. First, he erected a porch for his tent. Later he added a one-room shelter with an open-air kitchen.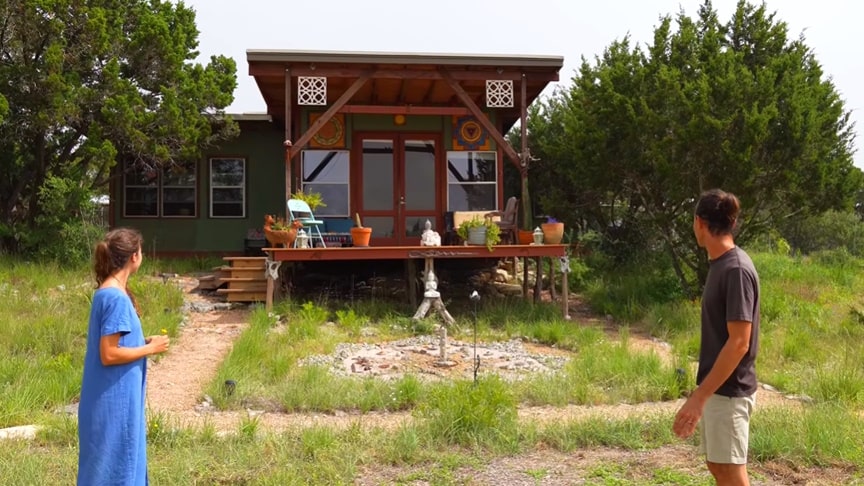 source/image: Kirsten Dirksen
When his now-wife Marlena joined him in 2016, they began building a more permanent setup. They added shutters to the kitchen so it could be closed off in winter, but open in summer (they rely mostly on DC fans for AC). Their bathroom includes a recycled bathtub and a stone-floor shower.
Advertisement
To accommodate overnight guests for their wedding, they built an off-grid cabin (with gas fridge) in just two months with mostly recycled materials for just $12,000. It now provides income as an overnight rental.To avoid trips to town, they grow their own food in raised beds and raise chickens in a recycled coop (they plan to add goats and bees). They are now able to go two weeks without leaving the homestead for provisions.
Their latest addition is a modern barn that serves as both a workshop for Eugene's tools and for Marlena's jewelry business. It was built to convert into an event space to rent for added income.